Alaska appears to be well-placed to become the third state to legalize marijuana after supporters of a proposed marijuana legalization initiative Wednesday handed in 50% more signatures than needed to qualify for the ballot. Some 30,000 valid voter signatures are required to qualify for the ballot; organizers handed in more than 46,000.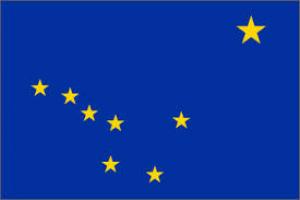 Initiative and referendum experts assume that a certain percentage of gathered signatures will be deemed invalid, with a common metric being that 25% to 30% will be thrown out. But even if 30% of the signatures gathered in Alaska were thrown out, that would still have the initiative qualifying by a couple of thousand votes.
Still, it's not official until it's official. State election officials have 60 days to verify the signatures. If it indeed qualifies, it will appear on the state's August 19 election ballot.
The initiative is sponsored by the local group Campaign to Regulate Marijuana, which is working with the national Marijuana Policy Project.
The Act to tax and regulate the production, sale and use of marijuana would allow adults to legally possess up to one ounce of marijuana and six plants (three flowering). Adults would be allowed to possess the harvest of their plants even in excess of one ounce as long as it remains on the premises where it was grown. The measure would also legalize the production, sale, and possession of paraphernalia.
The measure would allow for marijuana retail stores, cultivation facilities, infused product manufacturers, and testing facilities. It charges the Alcoholic Beverage Control Board with regulating marijuana commerce, but gives the legislature the authority to supersede it by creating a Marijuana Control Board. A $50 an ounce wholesale transfer tax would be imposed.
The measure does not change existing state laws banning public consumption, driving while impaired, or allowing employers to restrict marijuana use by workers.
It's an idea whose time has come, said proponents.
"It's not that the initiative would bring marijuana to Alaska," said Bill Parker, a former Department of Corrections deputy commissioner and one of the initiative's sponsors. "Marijuana is already in Alaska. It would legalize, regulate and tax it. It would treat it like alcohol," he told the Anchorage Daily News.
The possession of small amounts of marijuana in the privacy of one's home is already legal in Alaska under the state Supreme Court's interpretation of the state constitution's privacy provisions. But voters have been loath to go further. A broadly-written 2000 legalization initiative got 41% of the vote, and a less expansive 2004 initiative got 44% of the vote.
Times have changed, said Parker.
"I think Alaska and the country are coming to grips with the fact that what we have isn't working," he said.