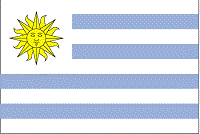 StoptheDrugWar.org needs your support to continue our work during the most important time in drug reform we've ever seen. We have gifts to send you too, with donations of $15 or more.
Sens. Pat Leahy (D) and Rand Paul (R) have joined together to introduce a mandatory minimum sentence reform bill. The bill would expand the "safety valve" to all federal offenses, not just selected drug offenses.
The discussion about legalizing marijuana commerce and cultivation is about to get underway in Uruguay. The president wanted to legalize it last fall, but backed off in the face of public opposition. Now, there will be an educational process to win support.
A drug dog's sniff of a home's front door is a search under the meaning of the Fourth Amendment and police must thus first obtain a search warrant, the US Supreme Court ruled Tuesday.
There is plenty of action in state legislatures, the battle over rescheduling continues, a Maine dispensary gets called out for using pesticides, and much more.
A Missouri technical college wanted to drug test all incoming students, but for a second time, a federal district court judge has said no, and she is likely to make it permanent when the case goes to trial in July.
As politicians dither, New Yorkers hoping to end New York City's reign as marijuana arrest capital of the world will have to wait. In the meantime, another thousand people are getting popped for pot in the Big Apple every week.
Medical marijuana legislation is moving in Maryland. A bill passed the House Monday and now heads to the Senate.
Medical marijuana bills have now been introduced this year in New York state.
An attempted drug arrest turned deadly at a Motel 6 in Carlsbad, New Mexico, Monday. It's the eighth drug war killing by police so far this year.
Dirty cops go down in Miami and New York, so does a jail guard in DC, and a Long Island dope squad's problems continue to mount.
Permission to Reprint:
This issue of Drug War Chronicle is licensed under a modified
Creative Commons Attribution license
. Articles of a purely educational nature in Drug War Chronicle appear courtesy of DRCNet Foundation, unless otherwise noted.