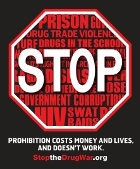 The medical marijuana supporters who organized Montana's IR-124 initiative want it to lose. That's because it's a referendum on a bad medical marijuana law passed by the legislature last year. If it loses, the bad law dies.
With marijuana legalization initiatives heading to the ballot, some with a good chance of passage, and with growing international support for a real debate on prohibition, people are talking about drug policy like they never have before. Our new book offers will help you be part of that conversation, while our new video offer will remind you why we should be angry too.
We're getting down to the final days, and the action around drug reform initiatives is fierce.
It's been a relatively quiet week on the medical marijuana front, with the big news being the DC Circuit Court's interest in determining whether Air Force vet Michael Krawitz has standing to challenge the federal government's refusal to reschedule marijuana. But that isn't all.
New polls show Washington's I-502 still leading, but Oregon's Measure 80 doing badly.
In a presidential debate virtually ignored in the US, three of four third party presidential candidates called for marijuana legalization and criticized the war on drugs.
Marijuana politics in Colorado could have a major impact on the presidential race.
Chalk one up for the NJ Weedman. The longtime activist and gadfly convinced a New Jersey jury to ignore the law and acquit him of marijuana possession with the intent to distribute.
France is about to become the latest European country to allow supervised injection sites to operate. Some could be open by year's end, the French health minister said.
Parties trying to form a new government in the Netherlands are trying to reach a compromise on the controversial "weed pass" system for cannabis cafe customers. So far, it looks like foreigners will lose out.
A 60-year-old Georgia homeowner is dead after allegedly pointing a canister of pepper spray at police doing a drug raid at his home.
Small town police chiefs gone wild! Junkie cop sells stolen police guns to dealer! More crooked cops go down in stings!
Permission to Reprint:
This issue of Drug War Chronicle is licensed under a modified
Creative Commons Attribution license
. Articles of a purely educational nature in Drug War Chronicle appear courtesy of DRCNet Foundation, unless otherwise noted.