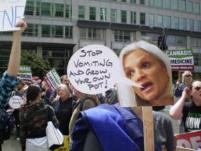 A San Francisco medical marijuana community already unhappy with federal raids on dispensaries was outraged and energized by Monday's raid on Oaksterdam. Hundreds of protestors went to the federal building to let the US Attorney know it.
NYPD arrested more than 50,000 people, mostly young people of color, for marijuana possession last year. Thursday, protestors went to the mayor's house to tell him to put a stop to it.
Some Colombian congressmen want to decriminalize coca and marijuana production in a bid to drive down prices and encourage farmers to plant other crops.
Some prominent Australians are on-board with a new campaign to end drug prohibition, including the current foreign minister, Bob Carr.
Marijuana legalization continues to gain support in the latest Rasmussen poll.
Medical marijuana patients in the nation's capital could be buying their medicines in dispensaries by this summer after the District government selected growers Friday.
The feds hit the iconic Oaksterdam University and associated businesses in a Monday morning raid. No word yet on any arrests. Patients are mobilizing. An already scheduled protest set for Tuesday in San Francisco should be even more energized now.
Monday's federal raid on Oaksterdam University in Oakland has ignited a firestorm of criticism of heavy-handed federal efforts to clamp down on medical marijuana distribution. Meanwhile, battles continue to be fought from Washington, DC, to local city halls.
We continue our newest offer for donating members, the drug policy classic reprint: "The Marijuana Conviction: A History of Marijuana Prohibition in the United States." This one is available for donations of just $22 or more.
A 19-year-old Washington, DC, man is dead after running from police investigating "drug activity," then pulling a weapon and firing at them.
Hoo-boy! Institutionalized misconduct and corruption in Florida and New Jersey, more jail guards in trouble, a pill-peddling cop, and a former Colorado sheriff goes down for trading meth for sex.
Events and quotes of note from this week's drug policy events of years past.
Permission to Reprint:
This issue of Drug War Chronicle is licensed under a modified
Creative Commons Attribution license
. Articles of a purely educational nature in Drug War Chronicle appear courtesy of DRCNet Foundation, unless otherwise noted.