A bill before the Colombian congress would decriminalize the cultivation of coca and marijuana in a bid to drive down raw drug prices and encourage peasant farmers to grow other crops. The bill is expected to be debated in the congress in coming days.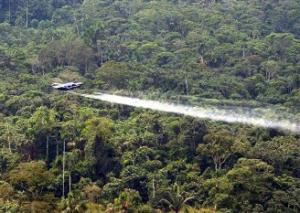 Colombia and Peru are the world's largest coca (and cocaine) producers, with Bolivia in third place. In both Peru and Bolivia, national laws allow for some legal coca cultivation, although illicit cultivation also occurs. There is no legal coca cultivation in Colombia, where the government and the United States have spent billions of dollars trying to eradicate coca crops.
Introduced by Liberal Party Congressman Hugo Velasquez and cosponsored by seven other solons, the bill would eliminate the threat of prison for illicit crop production.
"Let's see how well the laws of the market work," said Velasquez, who represented the coca-growing province of Meta. "If there's excessive production due to the lack of criminal penalties, surely the market will depress the price. We have to tell the United States and other consumers that Colombia has already paid enough, mostly in blood", he added in
remarks reported by the BBC
. "It hasn't worked. It's time to change the strategy."
But the government of President Juan Manuel Santos, who in recent months has frequently called for debate on alternatives to drug prohibition, has signaled that it opposes the bill. Justice Minister Juan Carlos Esguerra said such a bill would violate international drug treaties.
"We have to be particularly prudent and careful," he said.
The bill is unlikely to pass, but should help focus the attention of hemispheric leaders heading to Colombia in April for the OAS Summit of the Americas. Drug policy reform has been a hot topic in the region this year, and the bill will help keep it in the news.