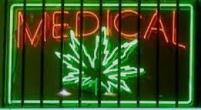 Two medical marijuana state governors, Rhode Island Gov. Lincoln Chafee and Washington Gov. Christine Gregoire, on Wednesday called on the federal government to reschedule marijuana. In a joint 106-page petition to the DEA, they said states that have passed medical marijuana laws need to be able to regulate its distribution without fear of federal prosecution.
In what could be an important intervention in the debates over medical marijuana and pot legalization, the first study to examine the relationship between medical marijuana and traffic deaths found they declined in medical marijuana states.
As drug policy reform continues into its most consequential stage in decades, StoptheDrugWar.org plays a crucial role for leaders and organizations in the movement. But we need your help, more perhaps than ever, to keep the most important StoptheDrugWar.org service, the Drug War Chronicle newsletter, at full strength.
Should people convicted of federal crack offenses before the Fair Sentencing Act was in effect, but sentenced after it was in effect, be sentenced under the new law or not? The US Supreme Court says it will decide.
The drug reform movement is losing a key congressional ally. Rep. Barney Frank (D-MA) announced Monday he will retire at the end of this term.
Newt Gingrich laid out a hard-line approach to drug policy targeting US drug users as well as Mexican cartels in an interview Saturday.
Four of Vancouver's last five former mayors are calling for marijuana legalization, and they have been joined by the city's current mayor.
The Chicago suburb of Evanston has decriminalized the possession of up to 10 grams of marijuana in a bid to cut costs and save youth from criminal records.
Mexican human rights activists have filed a complaint in the Hague against President Calderon for human rights violations committed by Mexican security forces, also mentioning crimes committed by drug cartels. That and the killings and arrests continue, with no apparent impact on the flow of drugs north.
Facing prohibition-generated violence, the Honduran government has given the military full domestic policing powers.
It's prison guards gone wild this week, plus a really sleazy deputy gets a sweet deal and a 'roided cop takes a plea deal.
Events and quotes of note from this week's drug policy events of years past.
Permission to Reprint:
This issue of Drug War Chronicle is licensed under a modified
Creative Commons Attribution license
. Articles of a purely educational nature in Drug War Chronicle appear courtesy of DRCNet Foundation, unless otherwise noted.