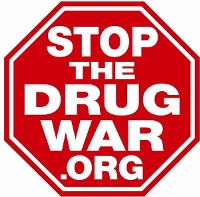 Dear Drug Policy Reformer:
Many of our readers have stepped up to the plate the last several weeks to support our programs as we head into the important year 2012. We are deeply grateful for your confidence and generosity -- thank you!
We continue to seek your help for the most central and part of our web site, the
Drug War Chronicle
newsletter.
The Chronicle reaches over a million people per year,
before any reprinting on other web sites or redistribution to other email lists, and it serves the broadest set of purposes for the most of them. If you're not currently subscribed to the Chronicle, you can check it out and read the latest articles from it
here
.
It's not a secret that the troubled economy has been very hard on nonprofits. Many good organizations have downsized dramatically, and some have even shut down. StoptheDrugWar.org is fortunate to still be here. But
we need your help
, more perhaps than ever, to keep the most important StoptheDrugWar.org service,
Drug War Chronicle
, at full strength.
Actually, we want to do
more
than continue the Chronicle at its current level. We have an amazing expansion plan that includes reaching out to policymakers (nationally and internationally), a major social media effort, continuing the Legislative Center that you've heard of, more. But to credibly approach major funders for those programs, we need to be able to show them that our members are supporting us and that we have a full year's funding lined up for the newsletter itself.
If you haven't donated recently, would you make a donation today for this or other StoptheDrugWar.org programs?
Drug War Chronicle
plays a crucial and unique role for individuals and organizations leading the charge with us for reform -- read what a few of them had to say recently about how:
Andrew Livingston, founder of Colgate University Students for Sensible Drug Policy:


Before I started Colgate University's chapter of Students for Sensible Drug Policy, I would stay up to date on issues in drug policy by reading stories in the Drug War Chronicle. The information I gained familiarized me with the growing movement for drug policy reform and stoked my passion to actively change our nation's unjust policies. Today I use StoptheDrugWar.org to keep myself informed and to teach other students in my SSDP chapter about the most up to date drug policy issues both within the United States and abroad.

Even though I am just a student I have already donated to StoptheDrugWar.org. Their work is indispensable to our cause, and I know it will continue to generate passionate young students like myself who want nothing more than to end our failed drug war policies.


Dale Gieringer, head of California NORML, recipient of the 2011 Robert C. Randall Award for Achievement in the Field of Citizen Action:

Drug War Chronicle is the single best source for drug war journalism. I can't praise Drug War Chronicle enough. Phil Smith deserves special kudos for his journalism. I regularly re-post your articles to our California lists. Please keep up the good work.


Adam Hurter, Massachusetts activist:

I've been drumming up a lot of support for medical marijuana and legalization here in Massachusetts, and StoptheDrugWar.org is my primary source for information that I use in talking to people about current drug policy reform issues. Without it I wouldn't be in the know myself. It's known in my circles as the primary source of drug policy news. In fact, people are pretty dependent on it at this point.
There is an incredible amount at stake in the fight to change drug policy right now -- this may truly be the most important moment in the issue we've seen in the entire history of the organization. States and the Congress are considering sentencing reform, and public support for marijuana legalization is finally reaching the 50% mark. Yet the government is conducting its most aggressive crackdown against medical marijuana -- just medical marijuana -- and regressive committee chairmen refuse to give important reform bills the fair hearings and consideration they are due.

We can't let them get away with that. And that's why we need your help to decide whether StoptheDrugWar.org and Drug War Chronicle can enter this historical moment at full strength and looking to grow. Will you step up today in meeting the needs of the times? Please make a generous donation to StoptheDrugWar.org -- non-deductible for our lobbying work, or tax-deductible for our educational work like Drug War Chronicle -- to help us enter the new year right.

Donations to our organization can be made online at http://stopthedrugwar.org/donate, or they can be mailed to: DRCNet Foundation (tax-deductible), P.O. Box 18402, Washington, DC 20036; or Drug Reform Coordination Network (non-deductible for lobbying), same address. (Contact us for information if you wish to make a donation of stock.)

Thank you for standing with us to stop the drug war's cruelties and meet the opportunity this time offers to make a brighter future. And don't get discouraged by the challenges our movement and the cause are currently facing: Time, and the truth, are on our side!

Sincerely,
David Borden, Executive Director
StoptheDrugWar.org
Washington, DC
http://stopthedrugwar.org

P.S. Reply to this email or use our contact form to send us your Drug War Chronicle testimonial!