Beginning with the successful 2019 Denver municipal initiative that made possession of psilocybin mushrooms the lowest law enforcement priority, Colorado has been on the cutting edge of the psychedelic reform movement. This November, the state is poised to maintain that vanguard status by decriminalizing some psychedelics -- the natural ones.
That is because Natural Health Colorado has managed to get the Natural Medicine Health Act (Initiative 58) on the ballot. The measure has three main planks:
It would decriminalize the personal use, possession, and cultivation by people 21 and over of dimethyltryptamine (DMT), ibogaine, mescaline (not derived from peyote), psilocybin, and psilocyn, as well as providing for the sealing of conviction records of people who have completed sentences for the use or possession of those substances. The measure sets no personal possession limits.
It would create a "natural medicine services" program for the therapeutic administration of the specified psychedelics and create a rubric for regulated growth, distribution, and sales of those substances to entities within the program. Only psilocybin and psilocyin would be okayed for therapeutic use until 2026. Then regulators could decide on whether to allow the therapeutic use of DMT, ibogaine, and mescaline.
It would create the Natural Medicine Advisory Board to create rules and regulations for implementing the therapeutic access program. The board could also make recommendations to the Department of Regulatory Agencies on adding additional substances.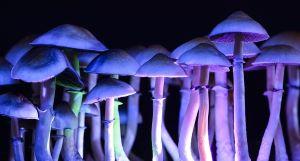 With the help of more than
$2.7 million in funding
from the New Approach PAC, which has bankrolled numerous drug reform initiatives across the country, Natural Health Colorado zipped through signature-gathering in a quick three months and qualified for the ballot back in June.
A competing initiative campaign from Decriminalize Nature Colorado, which would have only decriminalized entheogens and not created a therapeutic program, failed to qualify for the ballot. Members of that group have since become some of the most outspoken critics of Initiative 58.
"I do not personally align with I-58 and the heavy out-of-state influence calling the shots in Colorado," said Melanie Rose Rodgers, co-proponent of the Decriminalize Nature initiative. "What happened with cannabis is happening with mushrooms. Folks from marginalized communities, People of Color are being left out -- once again. With all the inequality and rolling back of freedoms that exist today, let us not create new industries that will cater and serve the rich and wealthy while opening the floodgates for anyone able to buy Colorado 'healing center' licenses. I am opposed to the corporate takeover of sacred earth medicines and psychedelics written in I-58."
But Natural Health Colorado and its backers beg to differ, and they are emphasizing the therapeutic aspects of the measure.
"This initiative would give Coloradans access to a new, promising, and research-based treatment option for PTSD, depression, anxiety, and other mental health challenges, in a safe, careful, and beneficial way," said Kevin Matthews, an initiative spokesman who led the Denver psilocybin campaign. "These medicines can be transformative for people who have suffered for years and struggled to find help," he said.
"The Natural Medicine Health Act puts the well-being of patients and communities first," said Josh Kappel, chair of the Natural Medicine Colorado campaign. "It was purposefully designed, with a multi-phase implementation process that sets clear safety rules, while allowing the details of the regulatory structure to be developed by the community and regulators working together."
"Our goal is to make the healing benefits of these natural medicines available to people they can help, including veterans with PTSD, survivors of domestic or sexual abuse, people with treatment-resistant depression, and others for whom our typical mental-health treatments just aren't working," said Ben Unger, psychedelic program director for New Approach PAC.
The initiative is also being endorsed by David Bronner, CEO (Cosmic Engagement Officer) of Dr. Bronner's soaps. "I see what [Initiative 61] does as one seamless policy: making natural medicines -- psychedelic plant and fungal medicines containing psilocybin, DMT, ibogaine or mescaline (excepting peyote) -- available to all adult Coloradans in two powerful healing modalities: via a regulated access model in a therapeutic context; and the self-regulating community healing model in a decriminalized context," Bronner said.
Whether Initiative 61 can pass in November remains to be seen. Natural Health Colorado has said he has no internal polling for this year, but a poll last year had support for legalizing psilocybin at 50 percent. While the poll question was not an exact match with what the initiative offers, it is close, and the level of support suggests that the contest itself could be close. A rule of thumb among initiative campaigns is that they like to be at 60 percent when the final stretch commences, as it now has.