Oregon's governor has vetoed a bill that would have moved toward a state bank to serve marijuana businesses, a coalition of public health and drug reform groups calls out the way some of the opioid settlement money is being spent, and more.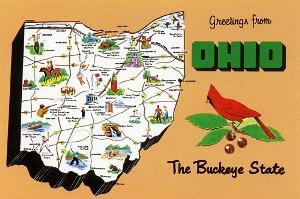 Marijuana Policy
Ohio Will Vote on Marijuana Legalization in November. The Secretary of State's Office announced Wednesday that the Coalition to Regulate Marijuana Like Alcohol had gathered sufficient valid voter signatures to qualify its marijuana legalization initiative for the November ballot. The group had originally come up short on signatures but used a 10-day window to find more signatures to go over the top.
The proposal would legalize the possession of up to 2.5 ounces of marijuana or 15 grams of extract by adults. It would also legalize the home cultivation of up to 12 plants. It also envisages a taxed and regulated market in legal marijuana, with retail pot sales taxed at 10 percent.
Nearly six in 10 state voters support marijuana legalization. If it passes in November, Ohio will become the 24th state to free the weed.
Oregon Governor Vetoes Bill to Create State Bank for Marijuana Businesses. Gov. Tina Kotek (D) has vetoed House Bill 2673, which would have created a State Bank Public Task Force as the first step in an effort to create a state-owned bank to help the state's legal marijuana industry. As in other states, the industry is blocked from accessing most financial institutions because marijuana remains illegal under federal law.
The bill would have directed the task force to make recommendations regarding the establishment of a state bank and directed the task force to investigate the provision of financial services for marijuana businesses.
In her veto message, Kotek wrote only that: "While the Governor supports exploring the creation of a state bank, this bill has several logistical challenges, including directing the Oregon Business Development Department (OBDD), which already manages over 80 programs, to manage a new task force, establish an RFP process, and finalize a substantive report on an abbreviated timeline."
Drug Policy
Organizations Oppose "Problematic" Use of Opioid Settlement Money, Want "Evidence-Based" Solutions. A coalition of more than 130 public health and reform groups is charging that the ways some states are using funds from massive settlements with opioid manufacturers and distributors are "problematic" and is demanding that states use the settlement funds for "evidence-based solutions."
The coalition, which includes the Drug Policy Alliance and AIDS United, wants the funds to be used for easing access to all FDA-approved medications for addiction treatment (methadone, buprenorphine) and the whole panoply of harm reduction measures, including safe injection sites. They also call for expanding housing, outreach, and wraparound services for current drug users and people with drug convictions, and supporting second-chance employment opportunities, recovery-to-work programs, and expungement of criminal records.
"Secured through the suffering of people who use drugs and their loved ones, these funds should be used to help individuals directly impacted by the failed 'War on Drugs,'" according to a brief from the organizations. "Sadly, in many places, people are not seeing opioid settlement dollars put toward things that would actually improve their lives."
Based on the drug companies' role in the opioid addiction crisis of the past quarter-century, the settlements are estimated to amount to at least $50 billion over the next 18 years and require recipients to spend at least 85 percent of the funds to "abate the opioid epidemic." But the coalition points to a program in Louisian where 20 percent of the funding is going to sheriffs, one in Wyoming that is buying new police cruisers, and one in New York that is paying overtime for narcs as evidence that the terms of the settlement are not always being followed.
Psychedelics
California Natural Psychedelic Legalization Bill One Step Closer to Final Assembly Committee Vote. A bill that would legalize the possession and facilitated use of certain natural psychedelics is one step closer to a final Assembly committee vote after clearing a procedural hurdle Wednesday. The bill, Senate Bill 58, has already passed the upper house.
The Assembly Appropriations Committee advanced the measure to its suspense file, meaning it is set for final action to see whether it advances to the floor. That decision should come by September 1.
The bill would legalize the "possession, preparation, obtaining, transfer, as specified, or transportation of" specific amounts of psilocybin, psilocyn, DMT, ibogaine and mescaline for personal or facilitated use. The bill would legalize up to two grams of DMT, psilocybin, and psilocyn, as well as up to four ounces of "a plant or fungi containing psilocybin or psilocyn. It would also legalize the possession of up to 15 grams of ibogaine.