A Rhode Island superior court judge throws out a traffic stop and search based on the odor of marijuana, the Missouri House passes a needle exchange bill, and more.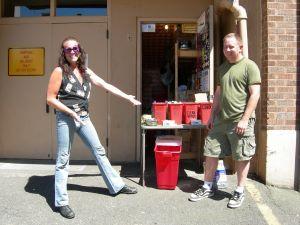 Marijuana Policy
Rhode Island Judge Throws Out Traffic Stop Search and Arrest Based on Odor of Marijuana. A Superior Court judge on Monday threw out evidence in two cases after determining that state troopers violated suspects' rights by unconstitutionally converting routine traffic stops into drug investigations and warrantless searches. Both cases involved out-of-state drivers of color and in both cases troopers argued that the apparent nervousness of drivers gave them reasonable suspicion to prolong the traffic stops and search the vehicles. In one of the cases, troopers also argued that the faint odor of marijuana could justify a warrantless search. Marijuana is decriminalized in the state. The trooper in this case initiated the stop because of a seatbelt violation, but as the judge noted in his ruling: "Based on the facts present in this case, it is clear that [the trooper] departed from his seatbelt violation mission and pursued a narcotics investigation when he removed [the driver] from the vehicle." The judge noted that the state Supreme Court had yet to rule on how decriminalization affected reasonable suspicion or probable cause determinations, but noted that neighboring Massachusetts and Vermont high courts had ruled that the odor of marijuana alone is not sufficient for a search.
Medical Marijuana
Nebraska Medical Marijuana Bill Gets Floor Debate This Week. The state's unicameral legislature will debate a medical marijuana bill, LB 474, on Wednesday. Sponsored by Sen. Anna Wishart (D-Lincoln), the bill would allow patients with specified qualifying conditions to buy and possess up to 2 ½ ounces, but not smoke it.
South Carolina Medical Marijuana Bill's Time is Running Out. A medical marijuana bill, Senate Bill 150/ House Bill 3361, is on the calendar for debate in the House this week, but it is unclear whether it will be taken up before the session ends on Friday. The bill would allow patients with specified medical conditions access to medical marijuana and would set up a strictly regulated cultivation and distribution system.
Harm Reduction
Missouri House Votes to Approve Needle Exchanges. The House on Monday passed a bill to legalize needle exchange programs, House Bill 1467. There are already needle exchanges in the state, but harm reduction workers currently face the prospect of a misdemeanor charge of providing needles for drug use. Under the bill, needle exchange programs could get legal by registering with the state. The bill now heads to the Senate.