Illinois is spending tens of millions of marijuana tax dollars to help communities impacted by the drug war, the DEA gets a new acting administrator, Mexican murders continue to increase, and more.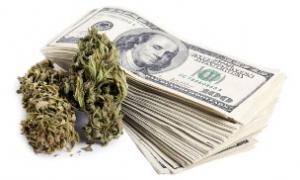 Marijuana Policy
State Attorneys General Push for Federal Marijuana Banking Reform. Attorneys Generals from 34 states and territories sent a letter today to Congressional leadership urging members to expeditiously pass The Secure and Fair Enforcement (SAFE) Banking Act, which would allow state-legal marijuana businesses to gain access to banking and financial services. Calling the status quo "untenable," the attorneys general wrote that the coronavirus pandemic had heightened the need for Congress to act quickly. The SAFE Banking Act is now part of the coronavirus relief HEROES Act, which passed the House last week, but whose prospects are clouded in the Senate.
Illinois Announces $31 Million In Marijuana Revenue-Funded Grants to Repair Drug War's Harms. State regulators have announced that some $31.5 million in marijuana tax revenues has been made available to "communities impacted by economic disinvestment, violence and the severe and multilayered harm caused by the war on drugs." The windfall is the result of the state's marijuana legalization law, which mandates that a quarter of all pot tax revenues go to the program serving those communities.
Drug Policy
Attorney General Barr Announces Timothy J. Shea New Acting DEA Administrator.Attorney General William P. Barr on Monday announced the appointment of Timothy J. Shea as Acting Administrator of the Drug Enforcement Administration. Since February 2020, Shea served as Interim US Attorney for the District of Columbia. He was also an assistant US attorney in the Northern District of Virginia in the 1990s and later served as the Chief of the Public Protection Bureau in the Massachusetts Attorney General's Office. Shea also served in congressional roles, including as Chief Counsel and Staff Director of the US Senate Permanent Subcommittee on Investigations and on the US House Appropriations Committee professional staff under Ranking Member Silvio O. Conte.
International
Mexican Murders at Record Levels in First Part of 2020. Despite President Andres Manuel Lopez Obrador's pledge to bring down drug gang-related violence when he took office in late 2018, it just keeps increasing. Last year was the bloodiest one since records started being kept, and this year so far is even worse. According to the federal security ministry, there were 11,535 murders during the first four months of 2020, up 2.4% over the same period last year. Mexico began imposing coronavirus restriction in late March, but that didn't stop the killing. Nearly 6,000 murders took place in March and April, one of the worst two-month periods on record.
Singapore Sentences Man to Death on Drug Charges Via Zoom. For the first time in the city-state's history, a man has been sentenced to death remotely via a Zoom video-call. Punithan Genasan, a 37-year-old Malaysian, received the sentence for his role in a 2011 heroin transaction last Friday, with the country under lockdown to try and curb one of the highest coronavirus rates in Asia. Human Rights Watch didn't think much of the move: "Singapore's use of the death penalty is inherently cruel and inhumane, and the use of remote technology like Zoom to sentence a man to death makes it even more so," said Phil Robertson, deputy director of Human Rights Watch's Asia division.