Mexico City's police chief narrowly escapes a cartel assassination attempt, the NYPD spent nearly $100 million enforcing the drug laws last year, and more.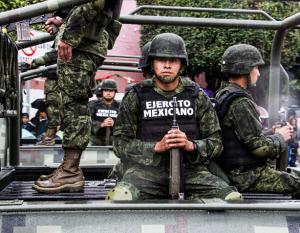 Medical Marijuana
Michigan House Passes Bill Allowing Spouses of State Employees to Seek Medical Marijuana Licenses. The House has passed HB 5700, which would allow spouses of state employees to obtain licenses for medical marijuana businesses. The bill now heads to the Senate Judiciary and Public Safety Committee.
Drug Policy
NYPD Spent Nearly $100 Million Policing Drug Laws Last Year The New York Policy Department spent $96 million enforcing drug laws last year, according to a new report from the Drug Policy Alliance. It spent nearly another half-billion dollars enforcing low-level "broken windows" offenses, the report found. DPA released the brief in support of the Communities United for Police Reform coalition call for Mayor de Blasio and the NYC Council to cut the FY21 NYPD expense budget by $1 billion and redirect savings to core needs in Black, Latinx and other NYC communities of color that have long been the target of the drug war and racist policing.
Sentencing
Michigan Bipartisan Criminal Justice Reform Package Filed. In a bid to bring down the length of prison sentences in the state—which run nearly twice as long as in neighboring states—lawmakers have filed a bipartisan package of 15 bills aimed at cutting back sentence lengths.
International
Mexico City Police Chief Wounded in Assassination Attempt, Blames Drug Cartel. Mexico City Public Security Chief Omar Garcia Harfuch barely escaped a brazen daytime assassination attempt in the city's upscale Lomas de Chapultepec neighborhood early Friday. Harfuch was struck by three bullets and two of his bodyguards were killed, as was a woman bystander. He later blamed the attack on the Jalisco New Generation Cartel.
Mexican Cartel In-Fighting Leaves 15 Dead in Sinaloa. Clashes between gunmen linked to rival factions of the Sinaloa Cartel left 15 people dead in rural communities near the state capital of Culiacan on Wednesday. Seven men clad in body armor and brandishing assault rifles were killed in Tepuche, while eight more armed men were killed in Bagrecitos as they opened fire on homes and vehicles. The violence comes just a week after a convoy of pickup trucks ambushed and attacked navy marines on patrol. The violence is believed linked to a power struggle between the sons of imprisoned leader Joaquin "El Chapo" Guzman and forces loyal to Ismael "El Mayo" Zambada, who has led the cartel since Guzmán's incarceration.
The Drug Policy Alliance is a funder of StoptheDrugWar.org.