A first congressional challenge to the Washington, DC, natural psychedelics initiative has been fended off, Mexico's toll of "disappeared" in drug violence in the past 14 years tops 70,000, and more.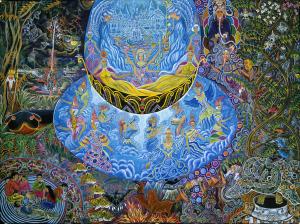 Psychedelics
House Committee Takes Up DC Natural Psychedelics Initiative. The House Appropriations Committee, which has jurisdiction over affairs in Washington, DC, held a hearing Wednesday to debate the status of magic mushrooms in the nation's capital, as an initiative that would make natural psychedelics the lowest law enforcement priority appears set to make the November ballot. The day saw an amendment by Rep. Andy Harris (R-MD), a longtime foe of DC drug reform efforts, which would bar the use of natural psychedelics without a doctor's recommendation, but Harris then withdrew the amendment in the face of Democratic opposition. "If the district's residents want to make mushrooms a lower priority and focus limited law enforcement resources on other issues, that is their prerogative," said Rep. Mike Quigley (D-IL).
International
Colombia Drug Gangs, Armed Groups Are Killing Pandemic Lockdown Violators, Human Rights Watch Says. Armed groups tied to drug trafficking organizations have enforced their own lockdown orders and killed people who didn't comply, according to a new report from Human Rights Watch. The group has documented at least nine killings for breaking social distancing orders since April, as well as documented examples of armed groups threatening and attacking people who breaks the groups' lockdown rules. "In communities across Colombia, armed groups have violently enforced their own measures to prevent the spread of Covid-19," José Miguel Vivanco, Americas director at Human Rights Watch, said in the report released Wednesday. "This abusive social control reflects the government's long-standing failure to establish a meaningful state presence in remote areas of the country, including to protect at-risk populations."
Mexico's Toll of Disappeared Rises Again. The number of people who have been "disappeared" in the prohibition-related violence ripping through Mexico has officially risen to 73,201, up from 61,000 in January. The vast majority of the disappearances have come since 2006, when the contemporary Mexican "war on drugs" began. In that same period, authorities have unearthed nearly 4,000 clandestine graves, with 6,625 bodies recovered.