An Arizona poll has its first majority for marijuana legalization, the South Dakota legislature passes a hemp bill, an Iowa bill to allow needle exchanges is moving, and more.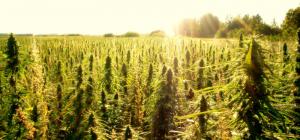 Marijuana Policy
Arizona Poll Has First Time Majority for Legalization. A new OH Predictive Insights poll has support for marijuana legalization in the state at 52%, the first time the poll has registered a majority for freeing the weed. In two 2016 OH Predictive Insights polls, only 43% supported legalization.
Maryland Legalization Bills Get Hearing. The House Judiciary Committee held a hearing on two marijuana bills Wednesday. HB 656, sponsored by Del. Eric Luedtke (D), would allow adults 21 and older to grow, possess, and purchase marijuana. Legal possession would be limited to one ounce of buds and five grams of concentrate, and individuals could grow up to four plants at a time. HB 632, sponsored by Del. David Moon (D), would amend the state constitution to legalize marijuana for adult use -- which would require voters to approve the measure via a ballot question. No votes were taken, and supporters said they were aiming at 2020, but laying the groundwork now.
Medical Marijuana
Kentucky Medical Marijuana Bill Advances. The House Judiciary Committee voted Wednesday to approve HB 136, which would legalize the use of medical marijuana in the state, but not in its smokable form.
Hemp
South Dakota Hemp Bill Passes But Faces Possible Veto. The state Senate voted Wednesday to approve HB 1191, which would legalize industrial hemp farming, on a vote of 21-14. The bill has already passed the House but will have to go back there to approve changes made in the Senate. Gov. Kristi Noem (R) doesn't like it, but legislators are hopeful enough of her concerns were addressed that she won't veto it. If she does, hemp will have to pick up three more yes votes in the Senate; it passed the House overwhelmingly.
Harm Reduction
Iowa Needle Exchange Bill Advances. A bill that would add the state to the list of 40 others that allow the harm reduction measure advanced just ahead of a critical deadline Wednesday, meaning it stays alive for the rest of the session. SF 500 would authorize a pilot program in five cities for five years.