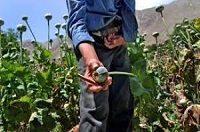 Operation Iron Tempest ends not with a bang but a whimper.
Hawaii says "aloha" to out of state patients, a Nebraska initiative campaign is getting underway, New Mexico expands grower plant limits, and more.
A bill to end federal marijuana prohibition has been filed in the House and Senate, a Hawaii decriminalization bill advances, a New Mexico bill would attempt to aid drug-using pregnant women -- not punish them -- and more.
No legal pakalolo for Hawaii this year, North Dakota sees its first medical marijuana dispensary, asset forfeiture reform advances in Michigan, and more.
Democratic presidential contenders begin staking out criminal justice reform positions, yet another poll has a national majority for marijuana legalization, the FDA approves ketamine for depression, and more.
An Arizona poll has its first majority for pot legalization, the South Dakota legislature passes a hemp bill, an Iowa bill to allow needle exchanges is moving, and more.
Permission to Reprint:
This issue of Drug War Chronicle is licensed under a modified
Creative Commons Attribution license
. Articles of a purely educational nature in Drug War Chronicle appear courtesy of DRCNet Foundation, unless otherwise noted.