Michigan marijuana stories abound, another Democratic presidential contender signs on to the federal legalization bill, Mexico's probable next president says he wants a debate on drug legalization, and more.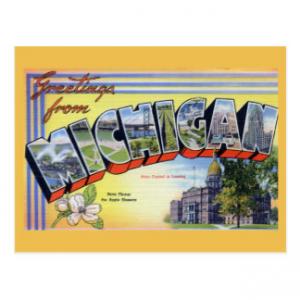 Marijuana Policy
Kamala Harris Signs On to Cory Booker's Legalization Bill. Sen. Kamala Harris (D-CA), oft mentioned as a potential Democratic presidential contender, is the latest senator to cosponsor Sen. Cory Booker's (D-NJ) marijuana legalization bill, S. 1689. Booker is also a potential Democratic presidential contender, as are two of the other three cosponsors, Sens. Bernie Sanders (I-VT) and Kirsten Gillibrand (D-NY). The only non-presidential contender cosponsor is Sen. Ron Wyden (D-OR).
Michigan Poll Finds Voters Ready to Legalize Marijuana.A new Michigan State University Institute for Public Policy and Social Research poll strongly suggests the marijuana legalization initiative will cruise to victory in November. The poll found 61% saying they want to legalize marijuana, with 34% opposed. Only 5% were undecided. "Marijuana legalization is the only issue with fewer than 15% undecided. Since the marijuana initiative has a large lead with relatively few undecideds, it appears likely that it will pass," said MSU economics professor Charles Ballard, the director of SOSS.
Michigan GOP Gubernatorial Contenders Reject Marijuana Legalization. All of the Republican candidates for the state governorship are united on at least two things: Support for President Trump, and opposition to marijuana legalization. But at least one, Attorney General Bill Schuette, recognized the handwriting on the wall. "But I think citizens of the state will have a chance to vote, and democracy will prevail," he said.
Michigan Senate Panel Votes to Ban Marijuana-Infused Beer and Wine. Trying to get ahead of a potential "disaster," the Senate Regulatory Reform Committee on Wednesday voted unanimously to approve Senate Bill 969, which bans the sale and use of marijuana-infused beer, wine, and spirits. "This is happening in Colorado and should the ballot proposal pass in November, we're going to end up with it here," argued bill sponsor Sen. Rick Jones (R-Grand Lodge). "It's a recipe for disaster." The bill now goes before the full Senate.
Wisconsin's Milwaukee County Could See Advisory Referendum on Legalizing Marijuana. The Board of Supervisors' Committee on Judiciary, Safety and General Services on Thursday unanimously passed a resolution to put a non-binding advisory referendum on the November ballot. Voters would be asked: "Do you favor allowing adults 21 years of age and older to engage in the personal use of marijuana, while also regulating commercial marijuana-related activities, and imposing a tax on the sale of marijuana?" The full board will take up the resolution at its May 24 meeting.
Medical Marijuana
Louisiana Senate Approves Adding Qualifying Conditions for Medical Marijuana. The Senate voted 25-9 Wednesday to approve House Bill 579, which adds glaucoma, severe muscle spasms, intractable pain, PTSD, and Parkinson's Disease to the state's list of qualifying conditions for the use of medical marijuana. It also voted 21-10 to approve House Bill 627, which adds autism spectrum disorders to the list. The bills have already passed the House, but must be approved there again after changes were made in the Senate.
International
Mexico's Leading Presidential Candidate Calls for Debate on Drug Legalization. Andres Manuel Lopez Obrador (AMLO), the left-leaning front-runner in the country's presidential election, has saiad he is open to debating drug legalization to reduce violence and criminality in the country. "All topics should be analyzed. Health is affected more by alcohol and tobacco than other drugs, and prohibiting these drugs creates more violence. Why not talk about it? And why not -- if it's what's best for the country -- approve it and implement it, listening to everyone's input?" he said,during an event titled "Dialogue for Peace and Justice," organized by several non-governmental organizations. AMLO also mentioned a general strategy to counter violence in the country, including a national peace dialog. "If there's crime, an activity will be done, and they will change it, criminals will do other things and my concern is that, by opening the market to drugs, other kinds of crimes will surge. The best thing would be to address the causes, the structure, reach the bottom of things without forgetting these measures (legalization)."
Mexican Soldiers Killed in Guerrero Gun Battle. Three Mexican Army soldiers were killed and three more wounded in a shootout with suspected drug gang members at a ranch outside Coyuca de Benitez, Guerrero. The ranch belonged to a former mayor of the town, who had resigned to run for state congress, but was killed Tuesday. At least 18 politicians have been killed in the state since September. Guerrero is one of Mexico's prime opium growing regions.
(This article was prepared by StoptheDrugWar.org's 501(c)(4) lobbying nonprofit, the Drug Reform Coordination Network, which also pays the cost of maintaining this web site. DRCNet Foundation takes no positions on candidates for public office, in compliance with section 501(c)(3) of the Internal Revenue Code, and does not pay for reporting that could be interpreted or misinterpreted as doing so.)