Ohio's medical marijuana program may have just hit a bump, hemp could be coming to Utah, drug users march for decriminalization in Vancouver, demonstrators will gather in DC next week to protest the Philippines drug war, and more.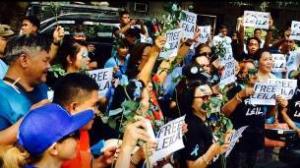 Medical Marijuana
Ohio Lawsuit Challenges Grow License Process. A lawsuit filed Tuesday by would-be medical marijuana grow operators who weren't picked for the large grow licenses issued by the state Department of Commerce threatens to disrupt the rollout of the program. The growers are suing the department, the officials involved in grading application, and all the businesses that won licenses. They charge they weren't treated fairly in the licensing process.
West Virginia Regulators Will Recommend Allowing Smokeable Medical Marijuana. The state medical marijuana board announced Tuesday that it plans to recommend to lawmakers that some patients be allowed to use marijuana in a smokeable form. The board will also recommend removing or increasing the cap on the number of growers, processors, and dispensaries in the state and allowing one company to take on more than one of those roles.
Industrial Hemp
Utah Hemp Bill Advances. A bill that would allow the production and sale of hemp products in the state is headed for a House floor vote after being approved Tuesday by the House Natural Resources, Agriculture and Environment Committee. House Bill 302 authorizes the state Department of Agriculture and Food to provide a hemp-growing license to "a person who wishes to participate in an industrial hemp research pilot program," according to a summary attached to the bill. The bill also allows those who would like to produce and sell hemp-based products "to distribute the registered hemp product in the state" if they obtain the license from the state to do so.
Asset Forfeiture
Wisconsin Asset Forfeiture Reform Bill Passes Senate. The state Senate has approved Senate Bill 61, which does not end civil asset forfeiture, but puts limits on how long police can hold property before someone is charged and reduce the amount of money police can keep when they sell seized property. The measure now heads for the Assembly.
Foreign Policy
Trump Budget Would Cut Aid to Colombia in Half. The White House's proposed Fiscal Year 2019 budget would slash foreign assistance to Columbia by nearly half, even as the country struggles to implement a peace deal with leftist FARC rebels and address a record-breaking level of coca planting and cocaine production. The budget would reduce funds "to implement sustainable peace" in the "most affected zones" of the country's drug prohibition-fueled armed conflict from $180 million to $100 million. The budget also seeks a reduction of one-third in funding for the International Narcotics Control and Law Enforcement program. Colombia is a major recipient of aid under that program, too. The Washington Office on Latin America said the budget proposal would "squander an historic opportunity to help Colombia avoid a resurgence of criminal violence, while Insight Crime noted that "large cuts in aid could prove detrimental to efforts aimed at improving security conditions in… crime-wracked countries" like Colombia.
International
Vancouver Drug Users March to Demand Drug Decriminalization. Several hundred drug users and supporters took to the streets of Vancouver's Downtown Eastside to demand that the federal government change its drug policies and embrace drug decriminalization. The protest, part of a national day of action across the country, was organized by the Canadian Association of People who Use Drugs (CAPUD), the Vancouver Area Network of Drug Users (VANDU) and other groups. Decriminalization would "allow people to use drugs more safely without fear of arrest and detention," said Caitlin Shane, a lawyer with Pivot Legal Society who specializes in drug policy.
DC Demonstration Against Philippine Drug War Killings Set for Next Wednesday. On Wednesday, February 28th, please join Filipino Americans, drug policy reformers and other human rights defenders to call for an end to extrajudicial killings and for Senator de Lima to be freed. We will rally from noon to 1:00pm in front of the Philippines Embassy, 1600 Massachusetts Avenue NW in Washington, DC. Among other things, the event will feature a street theater performance in which attendees will symbolically free a Senator de Lima figure from a realistic mobile model of a prison cell. Please email David Borden at [email protected] to get involved in preparations for this demonstration or for other information, and please spread the word!