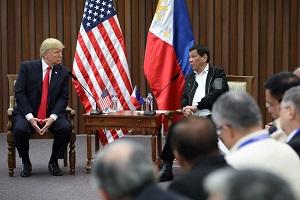 While much of the world moves toward compassionate drug policy reform, a populist would-be dictator has led one country cruelly backwards. Since taking office, President Rodrigo Duterte of the Philippines has orchestrated a brutal campaign of extrajudicial killings, mainly as part of his "drug war."
Credible estimates for the number of dead range from at least 12,000 to well over 20,000 and rising since mid-2016.
Ominously, a "Duterte effect" in the region has led to extrajudicial drug war killings in Indonesia and Bangladesh, and high-level officials in Malaysia and Turkey have also called for killings or other extrajudicial violence. In a move that has comforted human rights violators everywhere, President Trump has praised Duterte's drug war, twice.
"There are 3 million drug addicts (in the Philippines). I'd be happy to slaughter them. If Germany had Hitler, the Philippines would have..." [points at himself]
- Rodrigo Duterte, September 2016 (source: Reuters)
We at StoptheDrugWar.org ask your help in stopping this drug war tragedy that threatens global human rights:
Watch the powerful video from Senator Risa Hontiveros of the Philippines, sent for our event at the UN in New York last month:
Thank you for your support!
Sincerely,


David Borden, Executive Director
StoptheDrugWar.org
Washington, DC
P.S. Our Philippines campaign flows from work we're doing at the United Nations seeking reform of the UN drug treaties to clear the way more for legalization, while advocating drug policies based on health and human rights. Visit https://stopthedrugwar.org/global to learn more about that side of our work.