Vermont's bid to be the first state to legalize marijuana through the legislative process gets derailed or at least delayed by the governor, a judge rules a Rhode Island company discriminated against a medical marijuana patient, UC Santa Barbara students start an ecstasy pill-testing program, and more.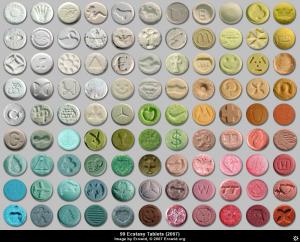 Marijuana Policy
Vermont Governor Vetoes Legalization Bill, But Leaves Door Open. Vermont Gov. Phil Scott (R) today vetoed a marijuana legalization bill, ending for now an effort that would have seen the state become the first to legalize pot through the legislative process. But Scott left open a "path forward" for passing the bill later this year, saying that if a handful of changes were made in the bill, he could support it. He said he thought the legislature still has time to incorporate them and pass a revised bill during this summer's veto session.
Medical Marijuana
Florida Judge Backs Issuing Two More Medical Marijuana Licenses. Administrative Law Judge John Van Laningham ordered the state to issue two new licenses to medical marijuana operators. That would boost from seven to nine the number of entities licensed by the state to grow, process, and distribute marijuana to patients.
Missouri Library Sued Over Refusal to Allow Activists to Meet. The ACLU filed a lawsuit Tuesday against the Rolla Public Library charging that it refused to allow a local man to hold a meeting in one of its rooms because he advocates for legalizing medical marijuana. Randy Johnson of New Approach Missouri had sought the room for a training session for initiative signature gatherers, but was unconstitutionally discriminated against because of his political views, the ACLU said.
Rhode Island Judge Rules Company Discriminated Against Medical Marijuana User. A Superior Court judge ruled Tuesday that the Darlington Fabrics Corporation had discriminated against a woman when she was denied an internship because she used medical marijuana to treat her migraine headaches. The company's action violated the state's Hawkins-Slater Medical Marijuana Act, which bars discrimination against registered medical marijuana users.
Drug Testing
Wisconsin Republicans Advance Welfare Drug Testing Plan. The GOP-controlled legislature's Joint Finance Committee voted 12-4 Tuesday to include a provision in the budget that would impose drug screening and testing requirements on some 14,000 parents who apply for Wisconsin Works job programs. A bill that would do the same thing has already passed the Assembly. The state already has similar requirements for four state-run work programs. In those programs, some 1,837 people were screened, 42 of those were referred to drug testing, and nine were referred to drug treatment. That's about one half of one percent.
Harm Reduction
University of California at Santa Barbara Students Roll Out Free Ecstasy Test Kits. UCSB Associated Students Off-Campus Senator Patrick Dohoney and the campus Students for Sensible Drug Policy (SSDP) chapter are providing test kits for students to test their pills for purity and contamination. "Me and a group of students, who are a part of SSDP, wanted to find a way to reduce the amount of drug-related emergencies," Dohoney said. "When people intend to take molly, it is often cut with other drugs, like amphetamines or bath salts. We wanted to make sure that if students decided to use drugs, they could do it in the safest, most responsible way possible."