Vermont Gov. Phil Scott (R) today vetoed a marijuana legalization bill, ending for now an effort that would have seen the state become the first to legalize pot through the legislative process.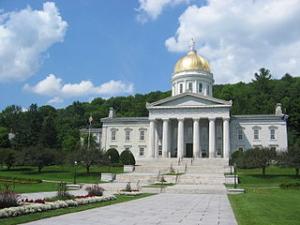 But Scott left open a "path forward" for passing the bill later this year, saying that if a handful of changes were made in the bill, he could support it. He said he thought the legislature still has time to incorporate them and pass a revised bill during this summer's veto session.
"We are disappointed by the governor's decision to veto this widely supported legislation, but we are very encouraged by the governor's offer to work with legislators to pass a legalization bill during the summer veto session," said Matt Simon, New England political director for the Marijuana Policy Project. "Most Vermonters want to end marijuana prohibition, and it is critical that the legislature respond by passing a revised legalization bill this summer. Marijuana is less harmful than alcohol, and there is no good reason to continue treating responsible adult consumers like criminals," he said.
Marijuana is legal in eight states -- Alaska, California, Colorado, Maine, Massachusetts, Nevada, Oregon, and Washington -- and the District of Columbia, but all of them legalized it via initiatives. Four states and DC did it in 2012 and four more last year.
Senate Bill 22 would have allowed people 21 and over to possess up to an ounce and four immature or two mature plants, effective July 1, 2018. But unlike the legal pot states, it did not include a provision for taxed and regulated marijuana commerce. Instead it called for a legislative commission to study whether and how to put such a system in place, making it more akin to the DC law, which allows personal possession and cultivation, but not legal sales, than to the tax and regulate states.
"Despite the veto, this is a huge leap forward," said Simon. "The passage of S. 22 demonstrates most members of both legislative chambers are ready to move forward with making marijuana legal for adults. Lawmakers have an opportunity to address the governor's concerns and pass a revised bill this summer, and we are excited about its prospects."
Although marijuana legalization has strong support in the state -- it polled 55% in a February poll and 57% in a March poll -- getting a bill through the legislature very nearly did not happen. While the Senate wanted a bill that would include taxing and regulating legal marijuana sales, the measure passed by the House, House Bill 170, only allowed for personal possession and cultivation. It took last-minute maneuvering in the Senate to arrive at an acceptable compromise, incorporating HB 170 into the Senate bill and replacing the latter's tax and regulate provisions with the commission to study how to do it. After that, it took a final vote in the House Judiciary Committee to win passage.
But with the stroke of Scott's veto pen, all that work has come to naught -- at least for now.
Efforts to legalize marijuana via the legislature have made real progress in several states this year, coming very close in Connecticut and Rhode Island, and advancing in other states, including Delaware, Maryland, New Mexico, and New Jersey, but no other state has gotten over the final hurdle yet and its unlikely any others will this year.
Those efforts at various state houses will continue next year, and 2018 will also likely see more marijuana legalization initiatives on state ballots. Campaigns are already underway in Arkansas, Missouri, Michigan, and North and South Dakota.