The White House is sniffing around Massachusetts medical marijuana patient data, the FDA has granted breakthrough drug status for MDMA as a treatment of PTSD, the DEA warns of a looming tide of cocaine, the State Department's top anti-drug official calls it quits, and more.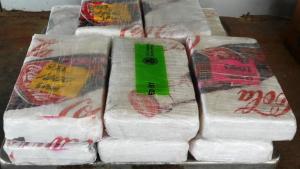 Medical Marijuana
White House Seeks Massachusetts Data On Medical Marijuana Users. The National Marijuana Initiative, part of the Trump administration's anti-drug task force, has asked the state Department of Public Health to provide data on the health conditions cited by medical marijuana users. The department has already provided data on patient by age and gender, but said it was considering whether to hand over additional data.
Tennessee Lawmakers to Study Whether to Legalize Medical Marijuana. Lt. Gov. Randy McNally (R) and House Speaker Beth Harwell (R-Nashville) announced in a letter last Friday that they are forming an ad hoc committee to study whether the state should legalize medical marijuana. The lawmakers said they would undertake a comprehensive review of the matter. The committee will consist of 10 legislators.
Ecstasy
FDA Grants Breakthrough Therapy Designation for MDMA-Assisted Psychotherapy for PTSD. The Multidisciplinary Association for Psychedelic Studies (MAPS) announced last Friday that Food and Drug Administration (FDA) has granted Breakthrough Therapy Designation to MDMA for the treatment of posttraumatic stress disorder (PTSD). MAPS and the FDA have also reached agreement under the Special Protocol Assessment Process (SPA) for the design of two upcoming Phase 3 of MDMA-assisted psychotherapy for patients with severe PTSD. MDMA-assisted psychotherapy is a novel treatment package that combines psychotherapeutic techniques with three administrations of MDMA as a pharmacological adjunct. By granting Breakthrough Therapy Designation, the FDA has agreed that this treatment may have a meaningful advantage and greater compliance over available medications for PTSD.
Drug Policy
State Department's Top Anti-Drug Diplomat Joins Exodus, Resigns. William Brownfield, the US Assistant Secretary of State for International Narcotics and Law Enforcement Affairs ("drugs and thugs"), has announced he is quitting at the end of September. Foreign Policy had reported that Secretary of State Rex Tillerson was considering Brownfield for a position as top envoy to Latin America, but instead Brownfield is leaving. His departure is only the latest of top officials from Foggy Bottom, including Brownfield's wife, Kristie Kenney, one of the department's senior foreign service officers, a few months back. Also resigning Friday, was Tracey Ann Jacobsen, the acting director of the Bureau of International Organization Affairs. Earlier in the week, Foreign Policy reported that the department's top official for European affairs, John Heffern, was forced out of his job, adding to "concerns of a growing wave of resignations by foreign policy professionals who are either being pushed out or resigning over frustration with an administration that has downgraded the importance of Washington's diplomatic corps."
Search and Seizure
Indiana Appeals Court Rules Genital Search for Blunt too Intrusive. The state Court of Appeals ruled last week that a police officer's search that included touching a woman's genitals was unconstitutional. Taccasia Porter had been convicted of marijuana possession, but appealed her conviction, arguing that the marijuana found in her underwear shouldn't have been admitted as evidence because it was the fruit of an unlawful search. The appeals court agreed, saying that while an initial search was lawful, the hands-down-the-pants search was not. "While the initial pat-down search was permissible, we find that the subsequent search ran afoul of both the federal and state constitutions," wrote appellate Judge John G. Baker. "All of this took place in a public area on the side of a road, with no evidence that any precautions were taken to protect Porter's privacy from pedestrian or vehicular passers-by or the two men on the scene," the opinion said. No word yet on whether prosecutors will appeal.
International
DEA Report Says Colombia Cocaine Expansion Fueling Rise in Use and Supply in the US. An August DEA Intelligence Brief notes that US cocaine supplies are at the highest levels since at least 2007 and the usage has jumped to the highest levels since 2009. The report also says that cocaine production and US border seizures "have reached the highest levels ever observed. The DEA argued that cocaine supply and us in the US will continue to rise barring a change in US drug habits, cartel behavior, or "a significant shift in the Government of Colombia's policies."
Trudeau Government Not Decriminalizing More Drugs Than Marijuana. Responding to calls from public health and political figures in British Columbia to decriminalize drugs in a bid to combat the opioid overdose epidemic, federal Health Minister Jane Philpott says no way. "Our government is currently working on the legalization, strict regulation, and restriction of access to cannabis, in order to keep it out of the hands of youth, and profits out of the hands of criminals," she said in a statement last week. "We are not looking to decriminalize or legalize other illicit substances at this time."
Mass March for Philippine Teen Drug War Victim.More than a thousand people joined the funeral procession last Saturday for Kian Delos Santos, 17, who was gunned down by Philippines police days earlier as part of their bloody anti-drug campaign. His killing has galvanized opposition to the year-long campaign undertaken by President Rodrigo Duterte upon his inauguration last year, which has resulted in thousands of deaths and increasing attention to charges that police are systematically executing suspected drug users and dealers.