Guatemalan President Otto Perez Molina said Wednesday his country could present a plan before year's end to legalize the production of marijuana and opium poppies. His comments came in an interview with Reuters.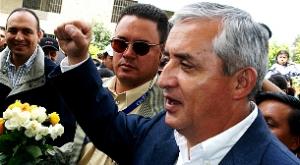 Perez, a conservative and former general, has been a harsh critic of the US-led war on drugs in Latin America, repeatedly denouncing such policies at international forums. He has also
previously mentioned the possibility of moving to legalize marijuana and opium production
, but has yet to put forward a concrete plan to do so.
But a presidential commission has been studying the issue of reforms in the country's drug laws, and Perez told Reuters he expected the commission to make its recommendations by October and that the measures could be presented by year's end. That could include a bill to legalize drugs, particularly marijuana, Perez said.
"The other thing we're exploring... is the legalization of the poppy plantations on the border with Mexico, so they're controlled and sold for medicinal ends," Perez said. "These two things could be steps taken on a legal basis."
While Afghanistan is by far the world's largest opium producer, accounting for nearly 90% of global production, poppies are also grown in the Western hemisphere -- in Mexico and Colombia, as well as Guatemala. Western hemisphere opium accounts for most of the heroin consumed in the United States.
Perez is keeping a careful eye on his northern neighbor, too. Mexico decriminalized drug possession in 2009, but has been loath to take further steps to end the drug war there, although there are now proposals afoot to legalize marijuana. Meanwhile, Mexican drug trafficking organizations, under pressure in their home country, have expanded their operations in Guatemala and other Central American nations.