And the wheel turns. Twenty years ago, Peru produced about 60% of the world's coca crop, from which cocaine is derived. But crop disease and aggressive anti-trafficking efforts in Peru hurt output there even as cultivation blossomed in Colombia, which took first place honors by the turn of the century.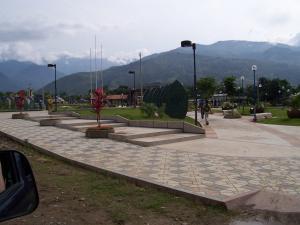 But now, according to the UN Office on Drugs and Crime (UNODC), Peru has regained its status as the number one producer. In a
report
issued last week, UNODC estimated that Peru had 151,000 acres of land devoted to coca production, compared to 125,000 acres in second place Colombia and about 63,000 acres in third place Bolivia.
Just as aggressive eradication and interdiction campaigns in Peru -- including a US-aided policy of shooting down suspected drug trafficking planes -- reduced the coca supply there in the 1990s, the massive US aid program known as Plan Colombia, with its aerial fumigation and aggressive eradication programs, has managed to shrink production in Colombia.
At its peak in 2000, Colombia accounted for 90% of the world's cocaine, with about 400,000 acres planted with coca. Since then, that figure has shrunk by about one third.
But in a clear example of "the balloon effect," Peru has taken up the slack, and has been well-situated to take advantage of growing Brazilian and European demand for cocaine. Peru's reemergence as the global coca leader comes despite renewed efforts by President Ollanta Humala to crack down on coca cultivation, as well as the trafficking and armed rebel groups -- remnants of the feared Shining Path insurgency of the 1980s -- who protect and profit from it.
Peru actually managed to decrease cultivation this year by about 4,000 acres, or 3.4%, according to UNODC. But given continuing declines in Colombia and stable, lower-level production in Bolivia, the country retakes first place even with the decline.
Unlike Colombia, both Peru and Bolivia have long histories of indigenous coca use, and both countries have large legal coca markets. But according to the UNODC, of Peru's estimated 129,000 tons of dried coca leaves, only 9,000 tons were destined for the legal market. That leaves 120,000 tons of leaves ready to be turned into cocaine hydrochloride and snorted up noses in Rio de Janeiro, Rome, and Riyadh.