They may be smoking more pot in Washington state than anyone thought, the Florida medical marijuana signature-gathering campaign is going down to the wire, opium production is up in the Golden Triangle, and aerial eradication is down in Colombia (after planes get blown out of the sky). And more. Let's get to it: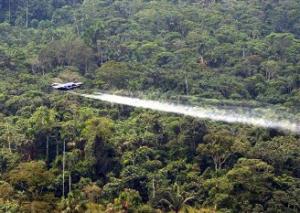 Marijuana Policy
Reason-Rupe Poll Has Support for Marijuana Legalization at 49%. In the latest Reason-Rupe poll, 49% of respondents favored legalizing marijuana, with 47% opposed. That puts it on the low side of recent polls on the topic, most of which are now showing majorities for legalization now. The poll found majority support among Democrats (55%) and independents (51%), but not Republicans (37%). Click on the link for more demographic and methodological details.
NYC Lobbyist Forms Marijuana Legalization PAC. The New York City lobbying and consulting firm Sheinkopf LTD, headed by Hank Sheinkopf, has registered a political action committee to advocate for marijuana legalization. The "Legalize Now" PAC was registered this week with the New York State Board of Elections. Both medical marijuana and legalization bills are pending in the legislature.
Washington State Marijuana Consumption Twice Previous Estimate, RAND Says. Marijuana consumption is about twice as much as officials had previously thought, according to a new RAND Corporation study. Consumption had been estimated to be about 85 metric tons in 2013, but the new study says the range is between 135 and 225 metric tons, with 175 metric tons as the median.
Medical Marijuana
Clock is Ticking on Florida Initiative. Time is running short for Florida's United for Care medical marijuana initiative. Organizers have until February 1 to gather 683,189 valid voter signatures, and say they have gathered 700,000 raw signatures, but only 162,866 have been certified as of Tuesday. Organizers are assuming a 25% rejection rate, so they are looking to gather a million signatures by deadline day.
Harm Reduction
Jack Fishman Dead at 83; Helped Create Naloxone.A scientist who played a key role in the development of the opioid overdose-reversal drug naloxone has died. Dr. Jack Fishman died earlier this month at age 83. Naloxone (Narcan) is credited with saving countless people from overdoses of heroin and other opioid drugs. Naloxone has been approved to treat overdoses since 1971, but only some states allow it to be distributed to drug users, community support groups, and local health clinics.
Sentencing
New Brennan Center Proposal Aims to Reduce Mass Incarceration. The Brennan Center, a nonpartisan law and public policy institute based at the NYU School of Law, has unveiled a new policy proposal to shrink prison populations, Reforming Funding to Reduce Mass Incarceration. It was discussed last week at the National Press Club in Washington by a panel including Jim Bueerman of the Police Foundation, Marc Levin of the Texas Public Policy Foundation, and Nkechi Taifa of the Open Society Foundations.
International
Golden Triangle Opium Production Up, UNODC Says. Opium production in Southeast Asia's Golden Triangle (Laos, Myanmar, Thailand) is up 22% this year over 2012, the UN Office on Drugs and Crime said Wednesday in its Southeast Asia Opium Survey 2013 - Lao PDR, Myanmar. Most of the production is in Myanmar, which produced 870 of the regions estimated 893 tons. The Golden Triangle accounted for 18% of global opium production this year, the report said.
Colombia Coca Spraying Halted After FARC Shoots Down Two US Pilots, One Killed. US-funded aerial eradication of coca crops in Colombia has been suspended indefinitely after FARC rebels shot down two spray planes, leaving one US pilot dead. The downings occurred in September and October, but the news that the FARC shot them down and that the program had been suspended didn't come until this week.
Mexican Human Rights Commission Warns Government on Anti-Cartel Vigilantes. Mexico's National Commission on Human Rights warned Tuesday that the rise of vigilante groups to confront drug trafficking organizations undermines the rule of law and could lead to increased violence. The commission blamed the rise of the vigilantes on the government's failure to provide security and accused the government of encouraging the formation of some of the groups. The commission said there were some 7,000 vigilante members in Guerrero alone, with thousands more in Michoacan, where dozens have been killed in clashes among vigilantes, police, soldiers, and drug traffickers.