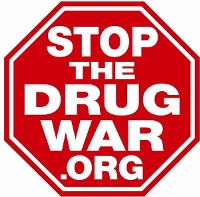 Dear friend of drug policy reform,
StoptheDrugWar.org needs your support more than ever before to continue our work of getting the word out online for the drug policy reform movement, building the movement, and providing this crucial informational tool that reformers around the world use in their work every day. I ask your support at this time with the most generous donation you can afford to enable this newsletter to continue.
In recent weeks we've announced our latest offer for members donating $50 or more, author-signed copies of three important new books. Phil has now completed reviews of all three of these works, most recently NYT bestselling author Doug Fine's -- Too High to Fail: Cannabis and the New Green Economic Revolution, as well as Marc Mauer and Sabrina Jones's Race to Incarcerate: A Graphic Retelling and Carl Hart's High Price: A Neuroscientist's Journey of Self-Discovery That Challenges Everything You Know About Drugs and Society.
To donate, and to order any of these or other items we offer, please use our online donation form at http://stopthedrugwar.org/donate, or scroll down for info on donating by mail. We are asking donations of $50 or more for a signed copy of any one or these books, $95 or more for signed copies of any two, or $135 or more for signed copies of all three. (If more than 25 people order the books by the time you place your order, we will ask the authors if they're willing to sign more. If that can't be worked out, we'll contact you and offer to make different arrangements, whether for a full or partial refund or to send different items.)
Now, $50 is a little more than we've asked for such items in the past, and of course they can be ordered online or purchased in a bookstore for less. Things have changed in the drug reform funding scene, making our organization more dependent on membership to continue our programs -- I hope you'll choose to support us at this time. Note that we continue to offer a range of books, videos, and StoptheDrugWar.org gift items with donations of as little as $7 -- visit our donation form to see the full list.
Also note that donations to StoptheDrugWar.org can be tax-deductible, supporting our educational work, or non-deductible, supporting our lobbying work. (Note that selecting any gift items reduces the amount of your donation that is deductible -- which with a smaller gift amount can be most of it.) Donations can be made by credit card or PayPal at http://stopthedrugwar.org/donate, or sent by mail to P.O. Box 18402, Washington, DC 20036. If you are donating by check, please make it payable to DRCNet Foundation (if tax-deductible) or Drug Reform Coordination Network (if not deductible). If you wish to donate stock, the information to give your brokerage is Ameritrade, (800) 669-3900), DTC#0188, and account number 781926492 for tax-deductible gifts or 864663500 for non-deductible gifts -- please make sure to contact us if donating in this way.
Thank you for standing with us to stop the drug war's cruelties and meet the opportunity this time offers to make a brighter future. As recent events show, time and the truth are on our side!
Sincerely,
David Borden, Executive Director
StoptheDrugWar.org
Washington, DC
http://stopthedrugwar.org