Doug Fine, Too High to Fail: Cannabis and the New Green Economic Revolution (2012, Gotham Books, 319 pp., $28.00 HB)
[Ed: This review was based on the hardcover edition of "Too High to Fail." The paperback edition of Too High Fail has now been published as well. According to the author it includes a a postscript that reflects "more unbelievable happenings in Mendocino County and worldwide through the beginning of this year."]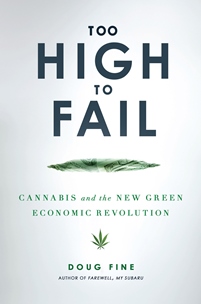 Marijuana and marijuana policy are big news these days -- they are exciting times, indeed! -- and that's reflected in what has now become a deluge of books on the topic. We've probably reviewed a dozen or more pot books in the last year alone, and here's another one. While, given the torrent of titles, it becomes increasingly difficult to stand out in the crowd,
New York Times
bestselling author Doug Fine's
Too High to Fail
is exceptional.
Fine writes with verve and passion, making it clear from the outset that he views marijuana prohibition as not only useless, but harmful -- not only to any sense of justice and morality, not only to the millions of people arrested and punished in myriad ways for the crime of possessing or trading in a hugely useful and versatile plant, but also to the country's efforts to claw its way back from the precipice of the Great Recession.
With that out of the way, in early 2011, Fine heads off for Mendocino County, California, ground zero in the new marijuana economy. A couple of hours north of San Francisco on US 101, Mendocino is part of the state's famous marijuana-growing Emerald Triangle, and is, to a mind-blogging extent, dependent on the pot economy. In fact, if not for pot, Mendocino would probably wither up and blow away. The logging industry is history, and the legal agricultural economy is a fraction of the size of the pot economy. (The county's largest legitimate ag crop, wine grapes, pulled in about $75 million in one recent year, at the same time the pot harvest was estimated at $8.1 billion, or about a hundred times as much).
The pot economy is normalized in Mendocino County. Marijuana dollars pay for everything from the new pickup trucks flying off dealers' lots every fall to the capital necessary to open boutique businesses that dot one-horse towns like Willits and Ukiah to the salaries of Mendocino County sheriff's deputies (at least for a couple of years; see below). County officials know what the local economy runs on, and so does the sheriff, which is why the county instituted its zip-tie program for growers willing to register as medical marijuana providers. Farmers paid thousands of dollars into county coffers for those zip-ties, which would let state and local law enforcement know that these were legal grows, not outlaw ones.
If California, where medical marijuana is legal is Fine's "bubble," Mendocino County, with its casual acceptance of the pot economy is the bubble squared, and growers operating within the guidelines of the zip-tie program, complete with inspections by law enforcement are inside the bubble cubed. This is where Fine situates himself, as he uses the journey of a single plant from cloning to delivery to a patient as the hook for his narrative of his hazy Mendo days.
Fine's sympathetic portraits of the folks involved, from Sheriff Tom Allman, who told him he wouldn't get "up off my ass" to arrest a guy with a pound of pot in the sheriff's parking lot and who created the zip-tie program, to Deputy Randy Johnson, who performed the unique job of zip-tie program compliance sergeant, to novice Mendo outdoor (but experienced East Bay indoor) grower Tom Balogh, who grew the clone Fine tracked, to Northstone Organics head Matt Cohen, who was determined to run a farmer-to-patient collective in scrupulous compliance with state laws, help put a human face on Mendocino's marijuana culture and some of its intricacies.
Fine also shines at explicating the various currents and tensions that run through the community, whether it's the veteran "Redneck Hippies" unhappy with the new generation of young, bling-slinging profiteers or county commissioners not exactly happy with Mendo's free-wheeling grow scene, but who recognize that it can't be wished away and should instead be regulated for the benefit of the county and its citizens. Or the travails of newcomer Balogh, who must contend with skeptical neighbors and prove to the community that he's not just another hit-and-run wannabe "sensimillionaire."
But while Fine spent a season deep inside the bubble, he also found that it could be punctured. He details his own experience being pulled over by sheriff's deputies in neighboring Sonoma County to the south who profiled him for his facial hair and muddied, big-tired pick-up, as well as the misadventures of two Northstone Organics deliverymen also pulled over and busted by Sonoma narcs and, gallingly, prosecuted by Sonoma County district attorneys. The drive from Mendo south through Sonoma and on to the Bay Area was called "running the gauntlet," as law enforcers on the hunt for busts and assets to seize preyed on the US 101 traffic less like highway patrolmen than highwaymen.
(As a resident of medical marijuana-friendly Sonoma County, such behavior by my elected officials and their minions offends my sensibilities. I'll be attending a Summer Solstice event this coming week to celebrate the formation of a political action committee whose goal is help enlighten our public servants, or replace them if they appear too thick-headed to get it.)
But Fine, Northstone Organics, and the entire Mendocino County effort to craft a tightly-regulated, county-benefiting medical marijuana program encountered an even more dramatic bursting of the bubble when federal prosecutors renewed their war on medical marijuana in the fall of 2011. Mendonesians had largely ignored the raids on dispensaries going on elsewhere in the state as the war ramped up, but they couldn't ignore the crew of DEA agents who rousted Cohen at gunpoint and chopped down Northstone's 99 plants, depriving more than 1,700 patients of their medicine, and effectively putting an end to the innovative zip-tie program.
With Too High to Fail, Fine show us how marijuana can be regulated and integrated into the community. And he dares to dream of a future where the cannabis plant, with all its manifold uses, can be integrated into, and indeed, become a boon for, the American economy. He also shows us the obstacles in the way.
The story of Mendocino's (and America's) marijuana adventure didn't stop in the fall of 2011. Since then, even as the first two states legalized marijuana outright at the ballot box, the federal offensive against medical marijuana in California has continued. Mendocino County had to fend off an overreaching federal subpoena of all records related to its medical marijuana program, Northstone has been knocked out of business, and an innovative program that served the interests of the community and the local economy has been stopped in its tracks.
In the new paperback edition, Fine returns to Mendocino and adds a 6,000 postscript on all the exciting developments since 2011, including legalization in Colorado and Washington, the seismic shifts in public opinion in favor of legalization, and the continuing trials, tribulations, and triumphs of the county's growers and the public officials attempting to come to grips with it all.
Although Fine looks bravely and boldly toward a cannabized future, we aren't there yet. But Too High to Fail chronicles what it could look like based on the Mendo experience, and provides a valuable and entertaining read along the way.