A deputy from Mexico's left-leaning Democratic Revolutionary Party (PRD) last Thursday introduced a bill (not yet posted) to legalize the use, cultivation, and sale of marijuana. The bill's chances of passage are slim, but in the wake of the successful marijuana legalization votes in Colorado and Washington, it will likely become a venue for further criticism of drug prohibition policies on both sides of the border.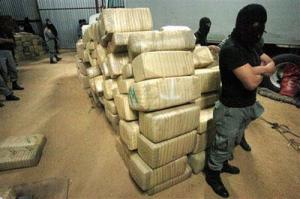 "The prohibitionist paradigm is a complete failure," said Fernando Belaunzaran, who represents a Mexico City district for the PRD. "All this has done is spur more violence, the business continues. The country that has paid the highest cost is Mexico," he told
Reuters
last Thursday.
Mexico decriminalized the possession of small amounts of drugs, including marijuana, in 2009. But while that move arguably improved the situation of drug users there, it has done nothing to reduce the prohibition-related violence that has cost the country at least 60,000 lives since President Felipe Calderon took office in December 2006.
Mexico has repeatedly demanded that the US do more to curb drug consumption at home, which it charges is driving the drug trade there. The frustration with US policy has only increased since last week's victories for Amendment 64 in Colorado and Initiative 502 in Washington.
Earlier last week, President Calderon joined with Central American heads of state to issue a declaration calling for a review of international drug policies, while a week earlier, a chief advisor to incoming President Enrique Pena Nieto, Luis Videgaray, said the legalization votes meant Mexico must reconsider its approach to the drug trade. Also last week, the governor of Chihuahua, Cesar Duarte, suggested that Mexico should legalize marijuana exports to the US.
While discontent with US drug policies is growing in Mexico, support for marijuana legalization remains weak. The bill's fate is also dim because the PRD and associated leftist parties constitute only the second largest bloc in the Congress, behind Pena Nieto's Institutional Revolutionary Party (PRI). Still, marijuana legalization will be on the congressional agenda in Mexico next year.