by Bernd Debusmann, Jr.

Mexican drug trafficking organizations make billions each year smuggling drugs into the United States, profiting enormously from the prohibitionist drug policies of the US government. Since Mexican president Felipe Calderon took office in December 2006 and called the armed forces into the fight against the so-called cartels, prohibition-related violence has killed more than 38,000 people, including more than 15,000 last year. The increasing militarization of the drug war and the arrest or killing of dozens of high-profile drug traffickers have failed to stem the flow of drugs -- or the violence -- whatsoever. The Merida initiative, which provides $1.4 billion over three years for the US to assist the Mexican government with training, equipment and intelligence, has so far failed to make a difference. Here are a few of the latest developments in Mexico's drug war: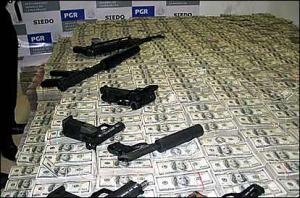 Wednesday, June 15
In Nuevo Leon,
a record 33 people were murdered
in one day. Among the dead were two bodyguards of State Governor Rodrigo Medina who were kidnapped, murdered, and mutilated. The previous daily high in the state was 18, which included 14 inmates killed in a jailhouse fire that had been deliberately set.
Friday, June 17
In Nuevo Leon,
26 police officers were detained
for their involvement in the murder of the two bodyguards of Gov. Medina on Wednesday.
In Matamoros,
the leader of Los Zetas, Heriberto Lazcano "Z-3" was reported killed
after a series of ferocious gun battles in the city with the rival Gulf Cartel. Mexican and American authorities have both denied that Lazcano is dead, and question why he would personally be leading attacks on the Gulf Cartel stronghold of Matamoros, across the border from Brownsville, Texas.
Sunday, June 19
In Michoacan,
at least 23 people were executed over the weekend
by the Knights Templar drug trafficking organization. President Calderon was in the state capital of Morelia at the time attending a U-17 soccer game between Mexico and North Korea. The Knights Templar had announced the coming murders via banner on Friday. On Saturday, nine people were found dead in three different locations, each containing three bodies.
The Knights Templar is an off-shoot of La Familia Michoacana, and has vowed to wage war on the opposing faction of LFM led by El Chango Mendez (captured Tuesday -- see below) and his allies in Los Zetas.
Monday, June 20
In Veracruz,
a journalist was gunned down along with his wife and 21-year old son.
Miguel Angel Lopez Velasco, 55, was an editor, crime reporter and columnist for the local Notiver newspaper. At around 5:30am on Monday, heavily armed gunmen kicked down the door to his home and gunned down everyone inside.
Also in Veracruz,
seven municipal police officers were
arrested in connection with the death of a Mexican Marine who was found dead on June 11 near the Tuxpan River. He was one of three Marines who were recently kidnapped and murdered in Mexico. The Marines have been on the forefront of Mexico's war on drug cartels and have conducted missions against high-profile targets such as Arturo Beltran Leyva, who was killed in December 2009.
Tuesday, June 21
In Cosio, Aguascalientes,
the leader of La Familia Michoacana was captured
by police at a highway checkpoint. Jose de Jesus Mendez Varga, 50, also known as "El Chango" -- the Monkey -- had been in command of the LFM organization since it broke up into rival factions after its previous leader, Nazario Moreno, was killed in fierce clashes with federal forces in December 2010. On Wednesday Mexican authorities said that US law enforcement played a key role in his capture.
In Ciudad Juarez,
at least seven people were murdered.
In one incident, a bag containing the head and dismembered body parts of a man was left outside a church. In a different part of the city, three men were gunned down inside a home in the southeast part of the city.
In the town of Cuahtemoc in the nearly lawless Chihuahuan sierra, authorities announced that
eight people were found
murdered there on June 18.
In Mexico City,
Salvadoran president Mauricio Funes said
after a meeting with President Calderon that the Zetas have been sending scouting missions to El Salvador to see whether they can purchase weapons from corrupt police and military officials.
Editor's Note: We cannot accurately tally the drug prohibition-related killings in Mexico at this time. El Universal, the only Mexican newspaper that was doing so on a regular basis, has stopped. We will have to rely on official pronouncements on the death toll, and will report them when they happen. Below are the numbers through the end of last year. With more than 1,400 reported dead in April alone, this year's toll could well exceed last year's. As of this month, we believe the total death toll has surpassed 38,000.]
Total Body Count for 2010: 15,273
Total Body Count for 2009: (approx.) 9,600
Total Body Count for 2008 (approx.): 5,400
Total Body Count for 2007 (approx): 4,300
Total Body Count for Calderon's drug war through 2010: 34,883