by Bernd Debusmann Jr.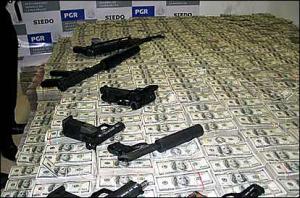 Mexican drug trafficking organizations make billions each year smuggling drugs into the United States, profiting enormously from the prohibitionist drug policies of the US government. Since Mexican president Felipe Calderon took office in December 2006 and called the armed forces into the fight against the so-called cartels, prohibition-related violence has killed around 40,000 people, including more than 15,000 last year. The increasing militarization of the drug war and the arrest or killing of dozens of high-profile drug traffickers have failed to stem the flow of drugs -- or the violence -- whatsoever. The Merida initiative, which provides $1.4 billion over three years for the US to assist the Mexican government with training, equipment and intelligence, has so far failed to make a difference. Here are a few of the latest developments in Mexico's drug war:
Thursday, December 1


In Mexico City,
the Army announced that troops had dismantled a cartel telecommunications system
that spanned four northern states. SEDENA said that troops confiscated 167 antennas, 166 power supplies, 1,400 radios and 2,600 cell phones in the operation, which took place in Nuevo Leon, Coahuila, San Luis Potosi and Tamaulipas.
In Ciudad Juarez,
at least nine people were murdered in several incidents.
Among the dead was a man who was chopped into pieces and scattered around a neighborhood. In another incident, three members of a musical group were gunned down as they rode in a car. In another part of the city, a group of armed men shot a woman dead outside a school.
In Ciudad Juarez,
an American imprisoned on drug charges was released
after American authorities determined that he had been tortured while in Mexican custody. John Huckabee, 24, had been arrested 26 months ago after Mexican authorities discovered marijuana in his car, a charge he denies. He had originally been sentenced to five years.
Friday, December 2
In Tabasco, 22 municipal and ministerial policemen were arrested on suspicion of involvement with the Zetas. The arrests, which took place across four municipalities, came after statements made by Santos Ramirez Morales, "Santo Sapo," a Zetas commander who was captured on November 24th in Chiapas.

In Ciudad Juarez, an anti-violence activist was wounded by a gunman. Norma Andrade, 51, was shot twice outside her home in what authorities are calling an attempted robbery. Her daughter, however, told the AP that suspicious men had been asking about her Friday morning. The attack happened later in the afternoon.

Sunday, December 4
In Veracruz, seven bound and gagged bodies were discovered. All appear to have been tortured. Military and police forces searched the area after the discovery, but no arrests were made.

Monday, December 5
In Acapulco, six members of the Independent Cartel of Acapulco (CIDA) were captured in a Federal police operation. Among those captured was Gilberto Castrejon Morales "Comandante Gil," the reputed leader of the organization. CIDA has been heavily involved in the violence over drug trafficking in Acapulco this year.

In Washington, Congressional Republicans said they would open an investigation into recent reports that DEA agents have laundered and smuggled millions of dollars in narcotics proceeds in an effort to help identify ways in which cartels launder money, as well as the location of assets and cartel leadership targets.Critics of the operation have said that the DEA tactic comes dangerously close to facilitating criminal activity. The DEA, for its part, said the operations were conducted with the full knowledge and support of the Mexican government.

In Monterrey, authorities announced the capture of ten Gulf Cartel gunmen linked to two attacks on local bars which killed a total of 23 died. Ten assault rifles, five vehicles and three grenades were also seized.

In Ciudad Juarez, seven people were killed in several incidents. In one incident, a 21-year old man was shot and killed after being chased down by gunmen. In another, a man was shot and killed by gunmen who came to his front door. No witnesses were present, due to the snow and cold weather.

Editor's Note: We have been conservatively estimating Mexican drug war deaths this year after El Universal quit publishing a box score. As of mid-November, we had estimated 8,100 deaths so far this year, but in light of new figures have revised that figure upward by about 3,000 deaths. Even that figure is an estimate, no more, until there is some official toll reported.]

Total Body Count for 2007 (approx.): 4,300

Total Body Count for 2008 (approx.): 5,400

Total Body Count for 2009 (approx.): 9,600

Total Body Count for 2010 (official): 15,273

Total Body Count for 2011 (approx.): 11,400

TOTAL: > 45,000