The Obama administration is withholding $26 million in anti-drug aid to Mexico that was appropriated this year because Mexico failed to meet human rights conditions. But at the same time, it is releasing $36 million it withheld last year for the same reason because Mexico has made some human rights improvements, the State Department said in a report released to the Senate Friday.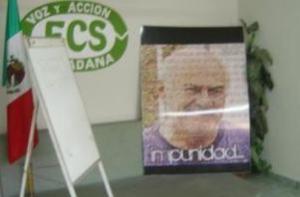 In 2008, as Mexico sank deeper into prohibition-fueled mayhem, Washington approved a $1.4 billion, three-year assistance package called Plan Merida. Part of that legislation mandated Mexican compliance with human rights conditions.
"We believe there has been progress, very significant progress, on human rights in Mexico, but as a policy decision -- not a legal decision -- we are going to wait on a portion of new funding because we think additional progress can be made," said Roberta Jacobson, a deputy assistant secretary for Mexico and Canada at the State Department.
The State Department is withholding 15% of this year's appropriation until Mexico takes a series of measures. Those include limiting the authority of military courts in cases involving abuse of civilians, improving communications with human rights groups in Mexico, and enhancing the authority of the National Human Rights Commission.
Complaints of human rights abuses by the Mexican military have risen sharply since President Felipe Calderon deployed the Army against drug traffickers in December 2006. More than 2,200 have been filed with the National Human Rights Commission since then, but there is little information available about how those complaints have been resolved.
In one incident that renewed calls from human rights groups that civilian authorities -- not the military -- investigate cases involving the military, human rights officials accused the Army of shooting two children and claiming they were caught in the crossfire of a shootout between soldiers and gunmen. In that April incident, two brothers age five and nine were killed. Surviving family members said they were shot by soldiers at a highway checkpoint.
The Mexican government responded by saying it is trying to improve human rights and that Washington should send money faster and not stick its nose in Mexico's business.
"The State Department report establishes that the government of Mexico is carrying out actions to strengthen the observance of human rights," the Mexican Foreign Relations Department said in a statement. "Cooperation with the United States against transnational organized crime through the framework of the Merida Initiative is based on shared responsibility, mutual trust and respect for the jurisdiction of each country, not on unilateral plans for evaluating and conditions unacceptable to the government of Mexico."
The State Department action won mixed reviews from human rights and advocacy groups north of the border. Maureen Meyer of the
Washington Office on Latin America
told the
Associated Press
that withholding the funds sends the message "that you cannot fight crime with crime and you cannot fight drugs while tolerating abuses by your security forces."
But Nik Steinberg of
Human Rights Watch
told the
Washington Post
the funding freeze didn't go nearly far enough. "Nothing should have been released, because Mexico is simply not meeting the human rights requirements," Steinberg said. "There are widespread and systematic abuses by the military, for which they have total impunity."