by Bernd Debusmann, Jr.
Mexican drug trafficking organizations make billions each year trafficking illegal drugs into the United States, profiting enormously from the prohibitionist drug policies of the US government. Since Mexican president Felipe Calderon took office in December 2006 and called the armed forces into the fight against the so-called cartels, prohibition-related violence has killed over 16,000 people, with a death toll of nearly 8,000 in 2009 and over 1,000 so far in 2010. The increasing militarization of the drug war and the arrest of several high-profile drug traffickers have failed to stem the flow of drugs -- or the violence -- whatsoever. The Merida initiative, which provides $1.4 billion over three years for the US to assist the Mexican government with training, equipment and intelligence, has so far failed to make a difference. Here are a few of the latest developments in Mexico's drug war: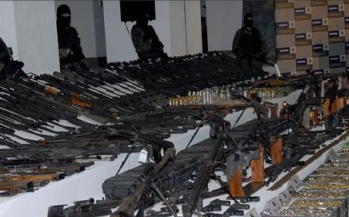 Saturday, February 6
In Mazatlan, Sinaloa, six people were shot dead in a nightclub. Four armed men entered the club, shot dead two waiters and a customer, before turning and shooting dead three men who were at the front door.
Additionally, in the state of Chihuahua, it was announced that Governor Jose Reyes would be moving his office, the state legislature, and the state judiciary to Ciudad Juárez in an effort to combat the violence in the city.
Monday, February 8
In Michoacan, four men were killed in two different incidents. In one case, a man was shot dead by an assassin riding a motorcycle. In the other incident, three young men were gunned down near a taxi stand.
Tuesday, February 9
In Tijuana, two high-level drug traffickers belonging to a breakaway faction of the Tijuana cartel were captured by Mexican authorities. Jose Manuel Garcia Simental and Raydel Lopez Uriarte were part of an organization that was headed by Teodoro Garcia Simental before his capture on January 12. Their organization was formerly part of the Arellano-Felix Organization (AFO) before splitting away and joining the Sinaloa Federation led by "El Chapo" Guzman. Authorities believe the group if responsible for numerous kidnapping and murders in Baja California. Raydel Uriarte, it should be noted, was nicknamed "Crutches" after the condition in which he left many of his victims. These arrests effectively wipe out the senior leadership of the organization.
In Reynosa, Tamaulipas, six men were killed in a firefight between suspected cartel gunmen and elements of the Mexican army. Three of the dead were gunmen, and the other three were soldiers. Four soldiers were wounded and 12 suspects were taken into custody in the incident. The exact details of the battle are unclear, but it is known that a truck carrying an unknown quantity of marijuana was captured. On Wednesday, El Universal reported that a video of the incident was uploaded by unknown parties onto YouTube, which can be found here.
In other parts of Mexico, a group of armed men ambushed and killed two policemen in Guanajuato, and an unidentified body was found in a black trash bag in another part of the state. In Guerrero, authorities found the headless body of a municipal police commander. Two people were reported killed in Ciudad Juárez, and 11 in Sinaloa. Two bodies were found in an unmarked grave in the border region between Michoacan and Guerrero.
Wednesday, February 10
Heads belonging to four people were found, three of them in Sinaloa and one in Guerrero. The bodies to which they correspond have not been found yet, however. Three of the heads were found in Sinaloa in front of a restaurant and a school in the town of Palmillas. All three were young males. A message was left with the heads, which is indicative of a drug-related murder. The fourth head, discovered in Guerrero, was discovered in a cooler left by the side of a road, and a note was left in this case as well. Additionally, the Guerrerro Public Safety Secretariat noted that the man's facial skin had been removed.
Also on Wednesday, President Felipe Calderon declared he will not withdraw the Mexican army from Ciudad Juárez. More than 5,500 troops occupy the border city, home to more than 2,600 prohibition-related deaths last year. They have been accused of failing to stop the violence, if not exacerbating it, and of human rights violations.
Total Body Count for the Week: 173
Total Body Count for the Year: 1,153
Total Body Count for 2009: 7,724
Total Body Count since Calderon took office: 17,358
Read the last Mexico Drug War Update here.