Dear Drug Policy Reformer,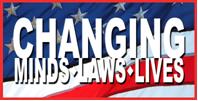 Right now, the entire nation is focused on changing priorities and changing "business as usual."
That's why this year's campaign, "Changing Minds, Law & Lives," pulls out all the stops to make our case: the Drug War is a waste of time, money and good people's lives.
Thanks to friends like you, I'm glad to report it's off to a great start!
It's not too late for you to renew your commitment to drug policy reform and get your free gifts. For a contribution of $36, you can choose either "Prohibition Doesn't Work" or "STOP" (click for an enlarged view). For a gift of $60 or more, you get both shirts. And for a contribution of $100 or more, you also get your choice of any item from the StoptheDrugWar.org inventory.
Your contribution today will make an immediate impact by helping us:
Produce more internet videos like "SWAT Raids — No One Is Safe" and fund more initiatives like the News Rewriting Project.
Build the groundswell for change by helping grassroots organizations — our movement's "boots on the ground."
Pressure the Obama Administration to make good on all of its promises and lobby Congress to make smart funding choices.
Break more records! With each improvement to the StoptheDrugWar.org web site, the world's #1 source for news, information and activism promoting sensible drug law reform, we can get more visitors and become an even more powerful resource in the fight to end prohibition.
What we're doing together is working. Please help us take advantage of this unique opportunity to build momentum in 2009!
Sincerely,

David Borden
Executive Director, StoptheDrugWar.org (DRCNet)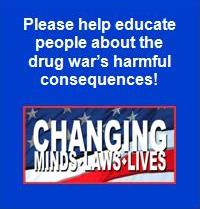 P.S. Please join us in "Changing Minds, Laws & Lives" by renewing your generous support of StoptheDrugWar.org today. It's time to stop wasting time, money and good people's lives!