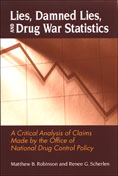 Normally when we publish a book review in
Drug War Chronicle
newsletter, it gets readers but is not among the top stories visited on the site. Recently we saw a big exception to that rule when more than 1,400 of you read our review of the new book Lies, Damned Lies, and Drug War Statistics: A Critical Analysis of Claims Made by the Office of National Drug Control Policy. Much of this reading took place during a week that had other very popular articles as well, so clearly the topic of this book, which was authored by respected academics Matthew Robinson and Renee Scherlen, has struck a chord. As well it should.
Please help DRCNet continue our own work of debunking drug war lies with a generous donation. If your donation is $32 or more, we'll send you a complimentary copy of Robinson and Scherlen's book to help you be able to debunk drug war lies too.
Over the coming weeks I will be blogging on our web site about things I've learned reading Lies, Damn Lies, and Drug War Statistics. Stay tuned!
Your donation will help DRCNet as we advance what we think is an incredible two-year plan to substantially advance drug policy reform and the cause of ending prohibition globally and in the US. Please make a generous donation today to help the cause! I know you will feel the money was well spent after you see what DRCNet has in store. Our online donation form lets you donate by credit card, by PayPal, or to print out a form to send with your check or money order by mail. Please note that contributions to the Drug Reform Coordination Network, our lobbying entity, are not tax-deductible. Tax-deductible donations can be made to DRCNet Foundation, our educational wing. (Choosing a gift like Lies, Damn Lies, and Drug Statistics will reduce the portion of your donation that you can deduct by the retail cost of the item.) Both groups receive member mail at: DRCNet, P.O. Box 18402, Washington, DC 20036.
Thank you for your support, and hope to hear from you soon.
Sincerely,

David Borden
Executive Director
P.S. You can read Chronicle editor Phil Smith's review of the book here.