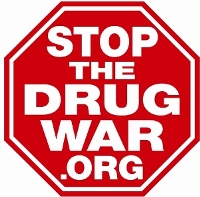 It's been a year since Oregon voters approved drug decriminalization. How's it working?
Do you want to know how Mexico's infamous drug cartels came to be. Start here.
How to eke out a loss in war, while losing to the opium poppy, too.
Mississippians will have to wait even longer for their medical marijuana, Coloradans will face some restrictions on medical marijuana purchases, and more.
A Pennsylvania trooper's heroin habit gets him in trouble, a Georgia cop's protection of her drug-dealing boyfriend gets her in trouble, and more.
Massachusetts legislation would legalize health insurance coverage for medical marijuana, federal lawmakers seek language in Justice spending bill to protect legal marijuana states, and more.
A New Jersey judge's ruling keeps an Atlantic City needle exchange program alive (for now), the Scottish government is trying to find a way to open a safe injection site in Glasgow, and more.
Renewed clashes between prison gangs linked to rival drug cartels left at least 68 more dead over the weekend, an Oklahoma marijuana legalization initiative gets hit with a nuisance lawsuit, and more.
A Czech marijuana magazine editor gets convicted of promoting "toxicomania," the DEA has to return money it stole from Americans in two separate cases, New Yorkers rally for sentencing reform, and more.
South Dakota lawmakers are ready to take up marijuana legalization in the next session, the drug czar suggests the pandemic-related easing of methadone restictions could be made permanent, and more.
Permission to Reprint:
This issue of Drug War Chronicle is licensed under a modified
Creative Commons Attribution license
. Articles of a purely educational nature in Drug War Chronicle appear courtesy of DRCNet Foundation, unless otherwise noted.