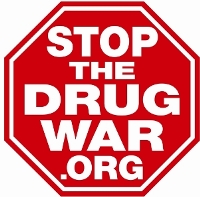 How many billions will go down the drain before we figure out we can't spend our way into making certain drugs disappear?
Sapo isn't a psychedelic, but the Amazonian toad venom has some powerful and cathartic effects.
The Senate approves a bill protecting medical marijuana states from federal intervention, Alabama and Kansas move toward filing medical marijuana legislation, a South Dakota medical marijuana initiative hands in signatures, and more.
A West Virginia narc goes down for stealing heroin from the evidence room and giving it to his snitches, a New Jersey federal prison guard gets caught in a years-long smuggling scheme, and more.
South Dakota lawmakers are moving toward trying again to legalize industrial hemp, New Zealand provides information on a coming marijuana legalization referendum, and more.
The US Virgin Islands could be moving toward marijuana legalization, but New Hampshire isn't--at least for now.
Michigan pot shops see high demand on opening day, Democratic contenders stake out drug policy positions, Maine finally has all pot business applications ready, and more.
A second North Dakota pot legalization initiative has submitted language to state officials, the Beckley Foundation publishes a report on getting to legal Ecstasy, and more.
Michigan legal pot sales are off to a hot start, a House resolution demands Congress apologize for racist drug war, a new report finds declining racial disparities in incarceration, and more.
Expungements for past minor pot offenses are beginning in Chicago, clinical trials on LSD microdosing are about to get underway in New Zealand, Kentucky's new Democratic governor moves to restore voting rights for ex-felons, and more.
Permission to Reprint:
This issue of Drug War Chronicle is licensed under a modified
Creative Commons Attribution license
. Articles of a purely educational nature in Drug War Chronicle appear courtesy of DRCNet Foundation, unless otherwise noted.