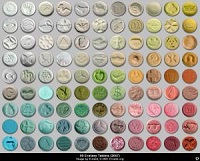 The Empire State has lost one of its most talented and dedicated marijuana and drug reform activists with the sudden death of Doug Greene.
There's going to be more medical marijuana available in New Mexico, patient cards will cost less in Arizona, and more.
A Hawaii police officer breaks bad and an Arkansas jail guard gets nailed. Let's get to it:
Delaware could be the next state to legalize marijuana if it hurries, Brazil's rightist president approves regressive new drug laws, Colombia's disarmed FARC rebels are starting to pick up their guns again, an opioid manufacturer pays out bigtime for bribing doctors to prescribe its fentanyl product, and more.
The full House could soon get its first chance to vote on a marijuana banking bill, New Yorkers still want to legalize marijuana, a group of UN human rights experts calls for a probe into the Philippine drug war, and more.
Nevada is going to pilot a digital banking program for cannabusinesses, Alabama's governor signs a medical marijuana study bill, chain pharmacies make recommendations on opioids, and more.
New data from the CDC suggests the overdose epidemic may have peaked, a new Gallup poll shows support for marijuana legalization remains strong, Oregon passes an interstate marijuana commerce bill, and more.
Permission to Reprint:
This issue of Drug War Chronicle is licensed under a modified
Creative Commons Attribution license
. Articles of a purely educational nature in Drug War Chronicle appear courtesy of DRCNet Foundation, unless otherwise noted.