By the time you read these words, the possession and sale of synthetic cannabinoids will be a federal crime. The DEA announced late Monday afternoon that its emergency rules banning the fake weed would go into effect Tuesday, March 1.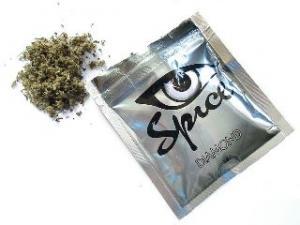 In recent years, synthetic cannabinoids sprayed on herbal matter and marketed as incense under names including Spice and K2 have become widely available. They are sold at head shops, convenience stores, truck stops, and via the Internet. The effects of such concoctions mimic those of marijuana.
The ban was originally scheduled to go into effect on Christmas Eve, but was delayed by
legal challenges from retailers
. The ban lists five chemicals commonly used in the compounds.
There has been "a rapid and significant increase in abuse of these substances in the United States," the DEA notice said. The agency is acting to avoid "an imminent hazard to public safety," it said.
But just as synthetic cannabinoids mimic the effects of herbal marijuana, the adverse effects reported by a subset of users mimic those of herbal marijuana. Those adverse effects include anxiety, paranoia, rapid heartbeat, and nausea -- all admittedly unpleasant, but not life threatening. No fake weed overdose deaths have been reported.
States have not been waiting for the feds to act against this legal high. At least 18 of them have criminalized synthetic cannabinoids, including Utah, Arizona, and Nebraska in the last week.