As many as a thousand people marched through the streets of Culiacan, the capital of Sinaloa state, Wednesday in support of arrested Sinaloa Cartel leader Joaquin "El Chapo" Guzman.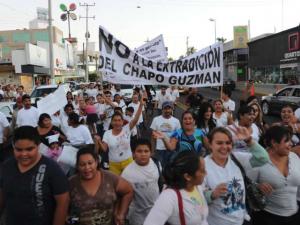 They called for his release from a Mexican prison and for him not to be extradited to the United States. Many of them said he provided employment in poor areas of the nearby Sierra Madre mountains and that his group had provided security for residents.
Many were dressed in white, holding signs with messages that included "Don't Extradite El Chapo," "We Want Chapo Freed," and "Sinaloa Supports You, Chapo."
"The government doesn't give any job opportunities," said Daniel Garcia, an unemployed 20-year-old. "The situation is, honestly, really difficult and he helps out the young people, giving them jobs."
"We support 'Chapo' Guzman because he is the one who gives us jobs and helps out in the mountains," said Pedro Ramirez, who was part of a group of 300 who had travelled from Badiraguato, a town in the Sierra Madre where Guzman was born 56 years ago.
Another demonstrator said he trusted Guzman more than any elected official.
The obvious question, of course, is how did this demonstration come about? Going back to Pablo Escobar in Colombia, drug traffickers have sought and won popular support by providing jobs, services, and facilities to communities where they operate. Mexican traffickers have done the same thing, hosting children's parties and building soccer stadiums and the like.
Was this a spontaneous outpouring of support for Sinaloa's most famous son? Or did El Chapo's buddies buy themselves a demonstration? In either case, the power of the cartels to mobilize popular support should not be underestimated.
Looking for the easiest way to join the anti-drug war movement?
You've found it
!