Far from saving the state money, Florida's new welfare drug testing law, promoted aggressively by Gov. Rick Scott, seems to be a budget buster. The law also seems likely to be found unconstitutional -- FoxNews's Megyn Kelly, host of the show "Kelly's Court," thinks so (as do we) -- and taking it through the courts to find that out will cost Florida taxpayers additional funds.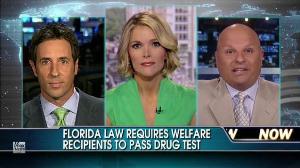 Unfortunately there have been a lot of these bills lately, this year and in other recent years. One more seems to be coming up in Ohio, and legislation may be coming up very soon in Congress -- we'll update here as soon as we know more.
Looking for the easiest way to join the anti-drug war movement?
You've found it
!