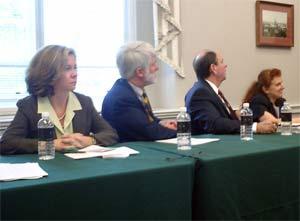 My friend and colleague Siobhan Reynolds, founder of the
Pain Relief Network
(PRN), died in a plane crash this weekend outside Columbus, Ohio. The pilot of the plane, her partner
Kp
Byers, was also a pain activist, an attorney
whose practice
had focused since 1992 on defending medical professionals caught in the
crosshairs
of the drug war.
Radley
Balko
has written an extensive tribute to Siobhan, online
here
. So does Jacob
Sullum
at
Reason
.
As
Radley
has noted and as many others will doubtless note, Siobhan's work organizing media and legal support for patients, doctors, pharmacists and nurses was a courageous one. An
article in the New York Times
last year by Adam
Liptak
shows the degree to which prosecutors and even some judges felt threatened by the scrutiny Siobhan and PRN had drawn to their handling of certain cases, and the lengths to which they were willing to abuse legal process to shut her down. Perhaps the daring of riding in a small plane is a mirror of the daring she showed in her career taking on the government.
PRN did shut down last year, the organization's financial resources and Siobhan's own resources depleted by the struggle. But Siobhan was working on forming a new patient advocacy organization,
Radley
noted. I hope that others will take up that torch in her name. The under-prescribing of opiates to many patients who need them, and the injustice of lengthy mandatory minimum drug sentences being leveled at doctors and others over prescribing practices that at worst are debatable, is one of the most challenging problems in the drug war to take on. There is far too little help -- medical, advocacy, or otherwise -- for the people most deeply affected. Among those people were her husband, the late Sean Greenwood.
The
Pain Relief Network
still has an online presence, and its home page provides Siobhan's reasons for the organization's closure and her hopes of what could happen in the future. Our own web site has an
archive
devoted to the pain under-treatment issue, much of the material in it about Siobhan's work. Also, Siobhan wrote several articles this year on prohibition and the drug war's impact on the doctor-patient relationship, the articles linked to from
her web site
.
Last but not least, in the YouTube video posted below, "Being Unable to Help," Siobhan talks about what was impossible to do for her husband in the current medical and legal environment. Share it widely.
Looking for the easiest way to join the anti-drug war movement?
You've found it
!