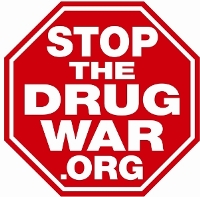 But there's this thing called the First Amendment...
The fight to defund federal law enforcement in medical marijuana states continues, the NFL is ready to work with players on medical marijuana for pain management, Puerto Rico is banking on medical marijuana to boost its economy, and more.
A crooked police scandal is brewing in Baltimore, a crooked Chicago-area cop heads for federal prison, so does an Alabama prison guard, and more.
An anticipated Justice Department decision on what to do about legal marijuana hasn't happened yet, Massachusetts' governor signs the legal marijuana implementation bill, the GAO reports on federal drug policy, and more.
New federal bills aim to remove state-legal marijuana and industrial hemp from the purview of the Controlled Substances Act, Jeff Sessions' drug war is slow getting off the ground, an Indian minister comes out for medical marijuana, and more.
Federal bills to legalize pot and to allow drug testing of people seeking unemployment benefits get filed, the presidential commission on opioids issues a preliminary reports, the NFL offers to work with the players' union on medical marijuana, and more.
Oregon Senator Ron Wyden has asked Attorney General Sessions to release recommendations on possible changes in federal marijuana enforcement, congressmembers want changes at Customs and Border Protection after video of a Mexican teen's death after drinking meth in front of Customs agents went public, and more.
Permission to Reprint:
This issue of Drug War Chronicle is licensed under a modified
Creative Commons Attribution license
. Articles of a purely educational nature in Drug War Chronicle appear courtesy of DRCNet Foundation, unless otherwise noted.