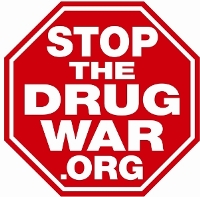 Chelsea Clinton retracts an errant statement, a California bill creating a "micro farm" license for ma-and-pa growers is signed into law, Massachusetts moves toward being more patient-friendly, and more.
Louisiana cops go down in a contraband cigarette conspiracy, a Massachusetts narc gets suspended for threatening to plant dope on a teenager, a Tennessee chief deputy gets popped for stealing from the drug fund, and more.
No, medical marijuana doesn't kill patients, Chelsea Clinton's spokeswoman admits, New York City is about to embark on a study of supervised injection facilities, and more.
California's governor signs asset forfeiture reform and medical marijuana "micro farmer" bills, a Massachusetts town pays out big time for killing an elderly black man in a drug raid, Indianapolis narcs have arrested 1,000 people in two and a half months and think that's success, and more.
We're little more than a month out from election day and Nevada is looking good, Arizona legalization foes have a big war chest, Germany okays its first medical marijuana patient grow, and more.
The campaign ads start rolling out in Maine and Massachusetts, legal pot sales keep getting higher, the DEA cuts quotas for prescription opioid manufacturing, and more.
Tennessee's two largest cities have now semi-decriminalized small-time marijuana possession, California pro-legalization ads roll out, the NFL bans "fake weed," and more.
Permission to Reprint:
This issue of Drug War Chronicle is licensed under a modified
Creative Commons Attribution license
. Articles of a purely educational nature in Drug War Chronicle appear courtesy of DRCNet Foundation, unless otherwise noted.