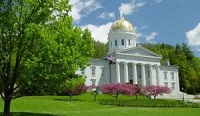 A VA policy barring doctors from recommending -- or even discussing -- medical marijuana with their patients expires this weekend. Congresspersons, doctors, and patients are hoping a change for the better is coming.
Vermont takes a step toward becoming the first state to legalize marijuana through the legislative process.
New England is poised to be a marijuana reform hotbed this year, and it looks like Maine will have a chance to legalize it.
A new year, a new batch of drug war deaths.
No new qualifying conditions for Illinois, Puerto Rico adopts medical marijuana regulations, a New York state senator files a medical marijuana expansion bill, and more.
It's pretty quiet on the corrupt cops front this week. Maybe that's a good thing.
Pot policy is popping! A legalization bill advances in Vermont, a Maine initiative looks set to qualify for the ballot next week, a Virginia poll has a strong majority for legalization (somebody tell the legislature), and more.
Maine's legalization initiative looks like it will qualify for the ballot, Tommy Chong endorses Bernie Sanders, a new federal bill would fund needle exchanges, naloxone is in the news, and more.
A new report finds marijuana is a booming market, California doctors get on board with the AUMA legalization initiative, the White House wants nearly a billion bucks to fight opioid addiction -- with most of it going for "medication-assisted treatment" -- and more.
The idea of marijuana social clubs in the nation's capital remains alive, Rhode Island patients face the prospect of seeing their plants taxed, there are medical marijuana advances in Australia and Poland, and more.
What a difference a policy change makes! After decrim in Jamaica and actually enforcing decrim in New York City, marijuana arrests plummet in both places, a bill to cut marijuana penalties advances in Kansas, a bill to refelonize hard drug possession is in play in Maine, and more.
Permission to Reprint:
This issue of Drug War Chronicle is licensed under a modified
Creative Commons Attribution license
. Articles of a purely educational nature in Drug War Chronicle appear courtesy of DRCNet Foundation, unless otherwise noted.