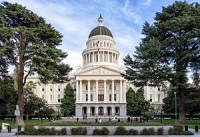 It's taken nearly two decades, but the state legislature has finally passed comprehensive, statewide medical marijuana regulation.
California passes historic medical marijuana regulation, Illinois governor blocks expanding qualifying conditions, Missouri activists gear up for a 2016 initiative, and more.
More jail guards gone wild, an Arkansas cop led a double life, a Pennsylvania state trooper was stealing drugs from motorists, and more.
New polls show majority support for legalization in Michigan and overwhelming support for having the feds butt out in South Carolina, efforts to get a medical marijuana regulation bill passed in California are still alive, Ecuador's president wants to toughen sentences for small-time dealers, and more.
Nearly 20 years after the passage of Prop 215, California may finally get statewide medical marijuana regulation; the Illinois governor's veto pen has an impact, but also gets blunted; there's a new report on drug policy and human rights in Latin America, and more.
NORML endorses the ResponsibleOhio legalization initiative, California legislators pass medical marijuana regulation, the White House issues its annual report on drug trafficking countries, and more.
Another month, another marijuana sales record in Colorado; Toledo votes on ending pot possession penalties today; Missouri activists eye a medical marijuana initiative, and more.
Marijuana, marijuana, marijuana. It's almost all pot news today, from Colorado taxes to decrim in Toledo and South Palm Beach, to a new federal bill aimed at ending DEA funding of marijuana eradication, and more.
Republican presidential contenders spar over drug policy, Martin O'Malley talks marijuana, Ohio's Supreme Court slaps down biased ballot language for ResponsibleOhio's initiative, pot people will march in Vienna on Saturday, and more.
Permission to Reprint:
This issue of Drug War Chronicle is licensed under a modified
Creative Commons Attribution license
. Articles of a purely educational nature in Drug War Chronicle appear courtesy of DRCNet Foundation, unless otherwise noted.