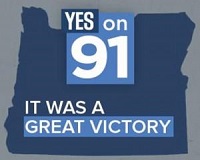 Civil society groups around the world used the occassion of the UN's International Day Against Drug Abuse and Illicit Trafficking to call for an end to the global prohibition regime.
A handful of California legalization initiatives have already been filed, but the big one will drop later this summer. All eyes are on November 2016.
You can now grow and possess limited amounts. Legal sales will come later.
ProCon.org is a series of in-depth web sites presenting information and views from on current issues, several with relevance to drug policy. The Chronicle is currently running a series of info items from ProCon.org -- this one from DrinkingAge.procon.org -- and we encourage you to check it out.
Three more people died in the drug war in June. That makes 32 so far this year.
It's been quite a week for medical marijuana. Delaware, Massachusetts, and Minnesota saw their first dispensaries open; Hawaii is now set to join the dispensary crowd; CBD cannabis oil became legal in Wyoming, and more.
A lying narc goes to jail, a bribe-taking probation officer gets indicted, a deputy's pill habit gets the best of him, and a woman cop's heroin dealing gets her in trouble.
You can listen in on the marijuana conversation in California, there's more Ohio pot legalization news, the Oregon House has passed a marijuana regulation bill, Vancouver decides to regulate its dispensaries, and more.
Oregon legislators are working to move up legal pot sales, Pennsylvania's long-stalled medical marijuana bill moves under pressure, the state will also move to address asset forfeiture reform, and Global Anti-Drug day sparks death sentences in China, protests around the world.
Marijuana becomes legal in Oregon this week (except for sales), Washington's legislature moves to modify pot legalization there, Delaware becomes the latest state to see dispensaries arrive, the policy folks at Rice University's Baker Center have a new drug policy report out, and more.
It looks like ResponsibleOhio will qualify for the November 2015 ballot, activists in California and Massachusetts move forward with their initiative campaigns, the New Jersey legislature passes a bill to let sick kids use CBD cannabis oil in school, and more.
New laws went into effect today, legalizing pot in Oregon, legalizing medical marijuana in Minnesota, legalizing CBD cannabis oil in Wyoming, Miami decriminalizes pot possession, and more.
Marijuana legalization comes with some additional sentencing reforms in Oregon, Denver activists roll out a pot social club initiative, Louisiana becomes the latest medical marijuana state, Vancouver cannabis clashes, and more.
Permission to Reprint:
This issue of Drug War Chronicle is licensed under a modified
Creative Commons Attribution license
. Articles of a purely educational nature in Drug War Chronicle appear courtesy of DRCNet Foundation, unless otherwise noted.