This article was written in collaboration with AlterNet and first appeared here.
The Measure 91 marijuana legalization initiative approved by Oregon voters last November went into effect as of 12:01 a.m Pacific Time today.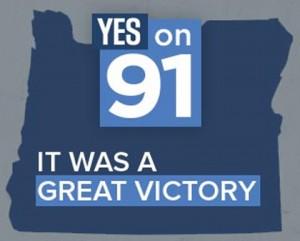 That means that people 21 and over can now legally possess up to eight ounces of weed at home and grow up to four plants. Only one ounce may be possessed in public. Public consumption remains illegal.
But you won't be able to go to the marijuana store just yet. Sales are currently set to begin next year, although there is a chance the legislature could act to move up that date.
Portland NORML is marking the occasion with a midnight seed giveaway in Portland.
"While it becomes legal to possess and cultivate cannabis, there is no legal place in Oregon to buy marijuana itself or cannabis seeds and starts," the group explaiend. "Portland NORML will educate the public and our partners will give away thousands of seeds and hundreds of pounds of marijuana this year so Washington State and the black market do not benefit from our new marijuana legality."
Law Enforcement Against Prohibition hailed the new era in Oregon.
"Expending law enforcement resources by going after nonviolent marijuana users is a shameful waste of time and tax dollars, and a distraction from what's really plaguing neighborhoods," said LEAP executive director Lt. Neill Franklin (Ret'd). "Cops in Oregon can now get into doing their jobs; protecting communities and helping victims of violent crimes get justice."
"Oregon still has more to do to ensure marijuana legalization is done properly; lawmakers and regulators are currently working to expunge the records of many non-violent marijuana offenders as well as develop proper regulations for taxes, concentrates, and labeling for consumer and child protection," said former prosecutor Inge Fryklund, an Oregon resident, and board member LEAP. "We must promote honest and accurate public information along with sensible regulations. Oregon can and will be a model for future states looking to consider legalization in 2016 and beyond."
Four states and the District of Columbia have legalized marijuana, and 23 states allow some form of access to medical marijuana. At least a half-dozen more states are likely to try to legalize it at the ballot box next year, and it could even happen this year in Ohio, where an initiative campaign has just handed in twice the number of signatures needed to qualify for the ballot.