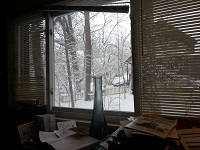 The case of Bernard Noble is raising serious questions about race, justice, and profit-taking in the Bayou State.
A 26-year-old Deltona man was shot in the face and killed in a SWAT raid over small-time marijuana sales. Police said he was a threat; his friends dispute that.
When the cops discovered a large marijuana grow-up beneath a historic Brooklyn maraschino cherry company, the owner killed himself on the spot.
A near total victory for the Kettle Falls Four, California continues to wrestle with medical marijuana, CBD cannabis oil bills pop up, and a Utah medical marijuana bill stays alive.
This week, the focus is on bad departments. We have two cases where cities and the departments that police them are running into trouble.
The Russians go all Reefer Madness on DC, Rand Paul takes on Jeb Bush's drug policy "hypocrisy," a second Ohio legalization initiative hits a road block, a new report examines the harms of global drug prohibition, and more.
Ted Cruz sees the light (or at least, which way the wind is blowing), a new poll has a majority for legalization in Maryland, asset forfeiture reform gets killed in two states, The Washington Post rethinks drug testing, and more.
There will be a smoke-out in Trenton later this month, medical marijuana is moving in Utah, the Texas "border surge" accomplishes little, KY cops ignore asset forfeiture reporting, a tough, new British drugged driving law has gone into effect, and more.
The top cops in DC and New York City offer wildly contrasting remarks on marijuana, Iran hangs drug offenders, while Indonesia prepares the firing squad for them, a Florida man gets acquitted of a marijuana cultivation charge in Florida by convincing a jury it was medical, and more.
The General Social Survey for the first time has a majority for marijuana legalization, DC cops start returning arrestees' marijuana, a Utah medical marijuana bill is still alive, Canada's Tories ponder decriminalization, Britain's Lib Dems talk drug policy reform, and more.
Permission to Reprint:
This issue of Drug War Chronicle is licensed under a modified
Creative Commons Attribution license
. Articles of a purely educational nature in Drug War Chronicle appear courtesy of DRCNet Foundation, unless otherwise noted.