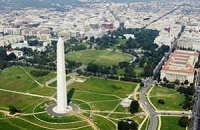 Congress voted to block DC from implementing marijuana legalization, but DC councilmembers are raring to go and have just filed a bill to tax and regulate the weed.
The battle over a CBD medical marijuana bill is heating up in Georgia, the Florida medical marijuana initiative returns, California localities continue to deal with dispensary issues, and more.
A Massachusetts prosecutor swaps info for pain pills, more jail guards get in trouble, a Georgia cop gets busted for slinging Ecstasy, a San Antonio cop get nailed for stealing cash and weed from a couple, and more.
A California tribe looks to be the first to grow marijuana, DC councilmembers move ahead with plans to tax and regulate pot, key congressional committee chairs call for asset forfeiture reform, an omnibus heroin bill is on the move in Kentucky, and more.
Marijuana legalization battles start to heat up in the states, a flurry of federal drug reform bills are filed, heroin overdose deaths are up sharply, Mexican cartels seem to be switching from pot to meth and heroin, and more.
The District of Columbia is challenging Congress on marijuana legalization, Sens. Feinstein and Grassley complain about administration drug policy, a plethora of pot bills have bill filed in Oregon, and more.
Permission to Reprint:
This issue of Drug War Chronicle is licensed under a modified
Creative Commons Attribution license
. Articles of a purely educational nature in Drug War Chronicle appear courtesy of DRCNet Foundation, unless otherwise noted.