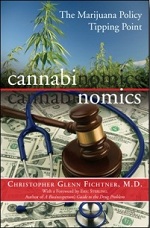 Help bring about the brighter future that awaits us beyond prohibition, by making a tax-deductible educational donation or a non-deductible lobbying donation before year's end.
Can the cops put a GPS device on your car and track you for weeks without a warrant? That's what they did to DC club owner Antoine Jones. Now, after a federal appeals court sided with Jones, his case could be headed for the Supreme Court.
Psychiatrist Christopher Fichtner makes a real contribution to the literature with Cannabinomics. You should check it out, or, better yet, give it to someone who is genuinely curious about how best to handle marijuana.
More major drug trafficking figures were captured or killed this week, yet Mexico's drug prohibition-related violence continued unabated. This year's death toll has passed 9,000, and Ciudad Juarez this week passed the 3,000 mark.
A narc who admits he's corrupt, a narc accused of serial theft, an auxiliary cop busted for peddling pills, and a deputy who thought he was protecting dealers all made the roll of dishonor this week.
New Jersey Gov. Chris Christie claims to support medical marijuana, but has acted first to delay the law there, then to subvert it through the regulatory process. Now, the state Senate has told him to get real.
An Alabama medical marijuana nightmare is about to come to an end for a card-carrying California patient.
Three senators have introduced a bill to set up a commission to evaluate the efficacy of US anti-drug programs in the hemisphere. But is it about ending the war on drugs or just making it more efficient?
The annual Monitoring the Future survey of teen drug use is out. Teen pot smoking is up slightly, but in line with most of the past 15 years.
Salvia divinorum is a powerful, short-acting hallucinogen, but it won't adversely affect your health -- at least in the short term -- a new study has found. Just don't go out driving on it, please.
Events and quotes of note from this week's drug policy events of years past.
Permission to Reprint:
This issue of Drug War Chronicle is licensed under a modified
Creative Commons Attribution license
. Articles of a purely educational nature in Drug War Chronicle appear courtesy of DRCNet Foundation, unless otherwise noted.