The Florida Supreme Court has set a date for oral arguments on a marijuana legalization initiative, New York's governor rolls out a plan to expand the legal weed market and crack down on the illicit one, and more.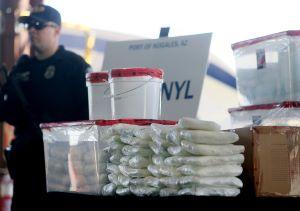 Marijuana Policy
Florida Supreme Court Sets Date for Hearing on Whether Marijuana Legalization Initiative Can Go on Ballot. The state Supreme Court has set November 8 as the date for oral arguments on whether a marijuana legalization initiative can appear on the November 2024 ballot. The court must approve the wording of the initiative before it can be certified for the ballot.
The initiative from Smart & Safe Florida would legalize the possession of up to three ounces of marijuana by people 21 and over, but contains no provision for home cultivation. Existing medical marijuana dispensaries would be authorized to sell marijuana to anyone over 21.
The initiative is being challenged by state Attorney General Ashley Moody (R), who argues that it does not meet "the requirements of Florda Statures" and that it marks an effort to create a "monopolistic stranglehold" on the state's marijuana market by Trulieve, a Florida-based multistate marijuana operator and the state's largest medical marijuana company, which has contributed the vast bulk of the $40 million raised for the campaign.
The state Supreme Court has rejected five of the past nine voter initiatives it has reviewed and is "heavily tied" to Gov. Ron DeSantis, who has repeatedly spoken out against marijuana legalization.
New York Governor Announces Plan to Expand Legal Marijuana Market, Tackle Illegal Sales. Gov. Kathy Hochul (D) has announced that the state intends to expand its legal marijuana market with hundreds of new retailers while aggressively cracking down on unlicensed marijuana sales. She announced that hundreds of licenses are being made available to grow and sell marijuana beginning today. Applications will be open for two months.
Hochul also touted efforts to crack down on the illicit market, announcing the seizure of more than 8,500 pounds of weed after 246 inspections. And she announced that the state will join forces with local municipalities to obtain orders closing illicit pot businesses, as well as using multiple state agencies to target the operators of illicit businesses.
"We know there's room for improvement as New York works to launch a brand-new cannabis industry and crack down on illicit operators, and I'm committed to working with all stakeholders to get the job done right," Hochul said in a statement. "My Administration is laser-focused on shutting down illegal storefronts, protecting the health and safety of children, and helping small businesses thrive. We will continue working to build the most equitable adult-use cannabis industry in the nation that invests in communities and rights the wrongs of the past."
International
Sinaloa Cartel Says It is Out of Fentanyl Business. Banners appearing on overpasses and near highways Monday in northern Mexico signed by a Sinaloa Cartel faction said the drug trafficking organization has gotten out of the sale and production of fentanyl, the synthetic opioid tied to roughly two-thirds of all fatal drug overdoses in the US in recent year.
The banners came from Los Chapitos, the sons of imprisoned drug lord Joaquin "El Chapo" Guzman, former head of the Sinaloa Cartel. They claim they have banned the production or sale of fentanyl within Sinaloa.
"In Sinaloa, the sale, manufacture, transport or any other business dealing with fentanyl, is strictly prohibited, including the sale of chemicals used to produce it," the banners read. "You have been warned. Respectfully, Chapitos."
This is not the first time Los Chapitos have denied links to fentanyl trafficking. In May, they claimed in a letter that they were not involved in the fentanyl trade. "We have never produced, manufactured or commercialized fentanyl nor any of its derivatives," the letter said. "We are victims of persecution and have been made into scapegoats."
But experts scoff at the assertion. Mike Vigil, former head of international operations for the Drug Enforcement Administration, said there is concrete evidence that "Sinaloa is the biggest producer of fentanyl in Mexico" and that there has been no sign the cartel is moving away from it.
"I think the Chapitos started feeling the pressure when they increased the reward for their capture," said Vigil "I think they are trying to create a massive illusion to take the pressure off," he said. "It's almost like a big campaign to convince the US they're not involved. It's nothing more than pure propaganda."